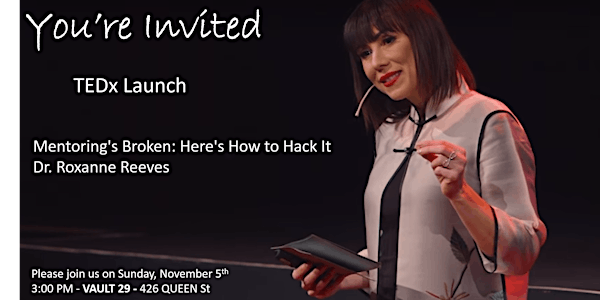 Amaze Yourself With Your Own Potential Through Mentorship
When and where
Location
Vault 29 426 Queen Street Fredericton, NB E3B 1B6 Canada
Description
Have you ever reflected on the successes in your life and wondered who may have been there to help you along the way?
Please join us as we collectively celebrate past mentors and redefine the future of mentorship.
We hope you can make it,
Dr Reeves' TEDx Launch Team
"My passion for mentorship has been driven by my direct experience with stigma and learning disabilities. I had painstakingly concealed literacy and learning disabilities into my thirties. Ashamed, I was walking to quit my undergrad program for the 4th time — this time as an adult — but an accidental meeting and a chance conversation with a woman who became my future mentor and at the time worked at the University of New Brunswick's Learning Disability Centre changed my life.
She asked me about myself and with an unexpected and revealing candour, I said I was "stupid and an utter failure"; she told me why I wasn't.
This experience has empowered me to share the value that lies in mentorship. I think we all wouldn't be where we are today without the inspiration, support and guidance from others in our lives - this, to me, is mentorship.
I'm not alone in believing in the power of mentorships. Harry Potter had Dumble Dore; Oprah had her 4th-grade teacher, Peter Mansbridge had Knowlton Nash, and Facebook's Mark Zuckerberg, and Google's Larry Page relied on the wisdom of Steve Jobs. In turn, Jobs had Nolan Key Bushnell, founder of Atari, among dozens of other mentors throughout his career.
Amaze yourself with your own potential through mentorship. It changed my life.
I am a mentor; I am a mentee."
Roxanne