AML & Blockchain: AML Compliance, Regulation, and Financial Panel Discussio...
Description
AML & Blockchain
The current state of AML regulations and compliance is of the most intriguing topics discussed by every company working in Blockchain and Cryptocurrency. Our goal is to further the discussion by pushing the envelope and looking at different compliance and AML perspectives and experiences.
The panelists will be well versed in the AML industry and provide educational value for the attendees.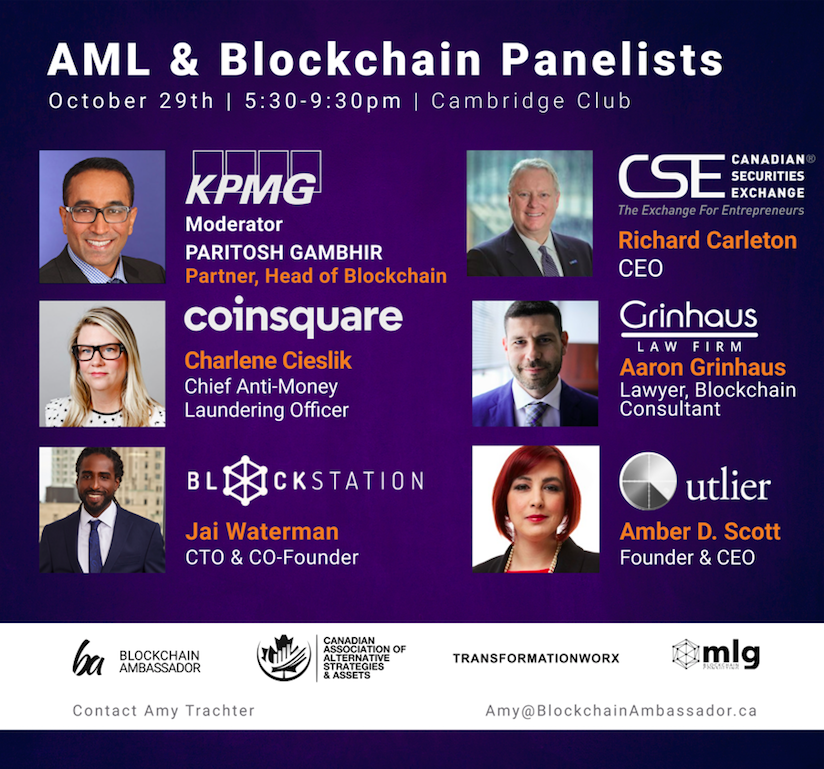 Panelists
MODERATED BY:
About Northern Exposure Event Series
Blockchain Ambassador is partnering with Canadian companies and organizations to shine the spotlight on Canadian talent, innovators, and thought leaders in the Blockchain and Cryptocurrency Space.
Each event will be held at an impressive Toronto venue with insightful panelists, current discussion topics, well thought out moderator questions and followed by a high quality networking evening with Hors D'oeuvres and Cocktails.
Discussion questions written by Transformationworx, Dawood Khan
SOLD OUT
Audience: AML professionals and other Industry Executives
Agenda:
5:30-6:15pm Networking and Cocktails
6:15 - 7:15pm Panel Discussion
7:15-7:30pm Q&A
7:30 - 9:30pm Networking, hors d'oeuvres and Cocktails
Partners: CAASA Canadian Association of Alternative Strategies & Assets
If your company would like to sponsor this event please contact Amy Trachter amy@blockchainambassador.ca