Description
Since 1979 KORITE's discovery team, craftspeople, designers and industry experts have celebrated the beauty of ammolite.
Join us as an expert from KORITE shares the history of how ammonite fossils found in a southern Alberta river basin are the only fossils where a confluence of factors made the mollusc into one of the rarest gemstones in the world.
Pendant Crafting
KORITE will provide attendees with a small piece of the elusive gemstone to hand craft a wire pendant with a Lethbridge based artisan that specializes in wire wrapped jewellery.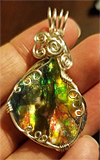 Artist rendering, actual product will vary.
About KORITE
From responsible harvest at its award-winning excavation to finished jewelry and décor statement pieces sold around the world, KORITE has become one of the most loved and respected coloured gemstone companies.
For more information on KORITE visit http://www.korite.com/.