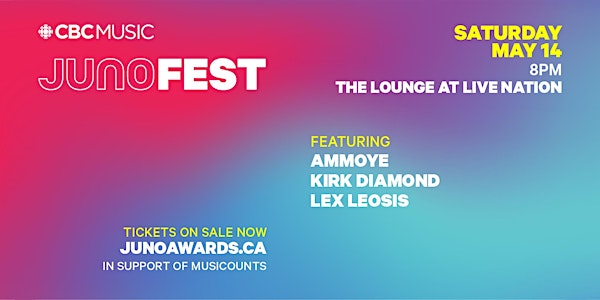 Ammoye + Kirk Diamond + Lex Leosis
CBC MUSIC JUNOfest Presents
Event Information
Performers
Kirk Diamond, Lex Leosis
Ammoye
Location
The Lounge at Live Nation
2 Snooker St.
Toronto, ON M6K 1X4
Canada
CBC MUSIC JUNOfest presents Ammoye + Kirk Diamond + Lex Leosis
About this event
Singing songs of love, life and justice, 5-time Juno nominee, Ammoye delivers a wholly unique future forward reggae sound that incorporates old-school rocksteady dancehall and dubstep, with gospel, soul and R&B. With her infectious voice and messages of empowerment, Jamaican-born Ammoye is a lightworker and self declared soul rebel. Ammoye's forthcoming 13-track album Water features a who's who of the contemporary international reggae scene with production from Jamaica's Tandra Lytes Jhagroo and Natural High, Toronto's own DJ Agile and Danny Maestro, The Senior Allstars from Germany, Thomas Blondet from Brooklyn, Adian Hanson Donsome of NYC's Donsome Records and the legendary Lord SassaFras.
Instagram | Facebook | Twitter
•
JUNO Award winner Kirk Diamond is a singer, songwriter, producer and social activist in his own right. Diamond has proven that there are no limits when high expectations of oneself and ones goals are achieved. Spreading musical messages of unity, inclusion, and love for all walks of life, The Movement Of Ahryel joins Kirk Diamond in delivering his greatness to reggae & dancehall lovers. Diamond was featured on CBC Music's 10 Canadian Reggae Artists You Need To Hear and nominated for a JUNO Award for Best Reggae Recording for his single "Love Inna We Heart" produced by France-based Galang Records in 2015. The nostalgic ode to the '90s has become a worldwide success steadily climbing various international charts such as the popular Canadian Reggae Chart heard on Rebel Vibez where it held the #1 spot and charted for over 19 weeks. In the Spring of 2017, Kirk released his debut EP Greater, "a story of my musical journey to this point with an optimistic look on what's next to come," said Diamond of the project. The EP's eponymous song hit the #1 spot by the Fall, running six weeks consecutive with a total of 42 weeks on the chart. Greater would gift Diamond with his second JUNO nomination and his first JUNO win for Reggae Recording of the Year in 2018. Kirk believes in the unification and empowerment of men, women and children under the banner of their collective African descent. This is reflected in his music, which is influenced by the philosophies of Haile Selassie and Marcus Garvey. Despite the amassed recognitions and critical distinctions, Kirk still stays humbled and continues to push the influence of reggae music international, while bringing about social change through his music. Staying true to the culture and the music Kirk has also been a part of various marches, protests and other events in the quest for equality.
Instagram | Facebook | Twitter | Spotify | Apple Music
An artist well known for her dynamic flows, aggressive stage presence and elaborate story-telling, Lex Leosis is loud, opinionated, constantly fighting for what she believes in. She's got an attack in her flow, a finesse in her lyricism and a hunger in her vocal tone. Her family gave her traditions, Toronto shaped her, and California helped form her sound. Growing up in Toronto's West End with a single mother who worked around the clock taught her discipline, hard work and survival. It gave Lex the energy to perfect her craft, grow her career and exchange stories with artists from all over the world. From humble beginnings, Lex first found a home in hip-hop and rap competitions and cyphers. She met a number of creatives through online rap communities and has dropped everything multiple times to join her peers in cities all over the U.S. to collaborate, make music and perform. Spending most of her time in the Bay Area of California, Lex has allowed her traveling influences to expand her music sound and capability. Lex has spent much of the past two years devoting herself to the growth of her hip-hop group, The Sorority. The group made waves with a 2016 International Women's Day Cypher, and since then have released a debut album to critical acclaim, and toured Canada multiple times, sharing festival stages with many great artists. Lex has been hard at work developing her own music infusing her multiple inspirations, Greek identity, and personal history with her own flavour.
Instagram | Facebook | Twitter | TikTok | Spotify | Apple Music
••
COVID-19 MATTERS
While attending CBC MUSIC JUNOfest shows, you must abide by the policies of any of the venues hosting any portion of CBC MUSIC JUNOfest, including their policies related to COVID-19, as well as any of CARAS' COVID-19 policies in place from time to time. Failure to abide by such policies may result in the venues and/or CARAS taking remedial action against you, including prohibiting you from attending the event and/or removing you from the premises. Refunds will not be issued should you be removed from the event or any premises (or prohibited from attending) for any reason, including for failing to abide by applicable COVID policies and protocols.
••
General Admission 19+ event. Valid government issued photo ID is required in order to enter. Artists and event schedule subject to change. Event subject to change in support of evolving public health protocols.
Performers
Kirk Diamond, Lex Leosis
Ammoye
Date and time
Location
The Lounge at Live Nation
2 Snooker St.
Toronto, ON M6K 1X4
Canada
Refund policy