An ACGC Evening Affair featuring The Yes Men

Saturday, September 22, 2012 from 6:00 PM to 9:30 PM (MDT)
Event Details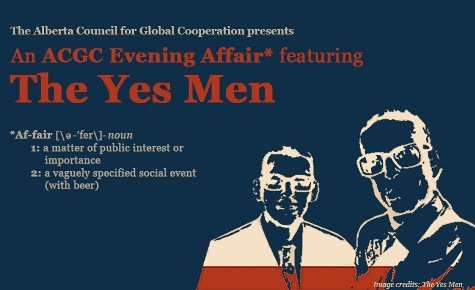 Saturday, September 22, 2012
An ACGC Evening Affair featuring The Yes Men
"We All Must Be Revolting: Finding Your Place in the Global Revolution"
With a tradition of showcasing thought-provoking guest speakers such as Maude Barlow, Stephen Lewis, and Wade Davis, this year's ACGC Evening Affair will feature Andy Bichlbaum and Mike Bonnano from The Yes Men at Edmonton's historic Garneau Theatre (8712 109 St) on Saturday, September 22nd, 2012. Andy Bichlbaum and Mike Bonnano, the founders of The Yes Men, come to Edmonton to speak about their daring exploits with a bold proposal for ways ordinary citizens can reclaim public discourse in their riveting talk: "We All Must Be Revolting: Finding Your Place in the Global Revolution."
Pranksters, filmmakers, and unconventional advocates for the public interest, The Yes Men have made a hobby of impersonating top industry and government leaders, releasing fake policy announcements on their behalf that ridicule their actual positions and draw attention to pressing social issues. Over the years, no target has been off-limits for the irreverent duo, who partner with other activist organizations to astonish newsreaders with headlines such as:
"US Chamber of Commerce Supports Climate Change Bill"
"The Hobbit Saves Money Shooting Mordor in Alberta Tar Sands" 
"Dow Chemical Offers to Compensate Victims of Bhopal Chemical Spill"
"Three strikes, you're in! McDonald's and NYPD partner to give free Happy MealsTM to Stop and Frisk Victims"
Frustrated by the growing dominance of corporate interests, The Yes Men have taken to guerilla tactics that shock, scare, and occasionally gross-out a bewildered public to raise awareness of irresponsible industry behaviour, with hilarious results when the stunts are revealed. Learn more about their stunts at www.theyesmen.org!
Prior to the keynote presentation, there will be a reception and NGO Fair where you can find out more about the international work of Alberta-based NGOs and how to get involved. During the reception, light refreshments with local beer and wine will be served. 
The evening will also feature the premiere screening of "Change Your World," a short film that follows the journey of 5 Albertan youth as they visit international development projects in Peru. From July 29th to August 11th, 2012, 5 Alberta youth took park in ACGC's Change Your World Alberta Youth Leadership Tour to Peru.  The tour, which explores the work of Alberta international development NGOs, was an opportunity for 5 incredible young people to see firsthand the impacts being made globally by Alberta-based organizations.  Change Your World is an opportunity to follow their journey as they live and learn alongside 5 Peruvian youth and gain a deeper understanding of the positive impacts of focusing on long term community development instead of short term charity. 
Friday, September 21st, 2012
Free Film Screening
 "The Yes Men Fix the World"
Get ready for the ACGC Evening Affair featuring The Yes Men live with ACGC's screening of their latest film, "The Yes Men Fix the World," on Friday, September 21st in Lecture Theatre 2-190 at the Edmonton Clinic Health Academy (11405 87 Ave) on the University of Alberta campus from 7:00-9:00pm.THE YES MEN FIX THE WORLD is a screwball true story about two gonzo political activists who, posing as top executives of giant corporations, lie their way into big business conferences and pull off the world's most outrageous pranks. 
From New Orleans to India to New York City, armed with little more than cheap thrift-store suits, The Yes Men squeeze raucous comedy out of all the ways that corporate greed is destroying the planet. Brüno meets Michael Moore in this gut-busting wake-up call that proves a little imagination can go a long way towards vanquishing the Cult of Greed.
Who knew fixing the world could be so much fun?
About ACGC
The Alberta Council for Global Cooperation (ACGC) is a coalition of voluntary sector organizations located in Alberta, working locally and globally to achieve sustainable human development. We are committed to international cooperation that is people-centred, democratic, just, inclusive, and respectful of the environment and indigenous cultures. We work towards ending poverty and achieving a peaceful and healthy world, with dignity and full participation for all.
Friday, September 21st
Film Screening: "The Yes Men Fix the World"
Free admission
Lecture Theatre 2-190, Edmonton Clinic Health Academy (11405 87 Ave)
University of Alberta
7:00pm – 9:00pm
Saturday, September 22nd
An ACGC Evening Affair featuring The Yes Men Live
$30 regular admission, $20 student admission
Garneau Theatre (8712 109 St)
6:00pm – 7:00pm             Reception and NGO Fair
7:00pm – 9:30pm             Feature Presentations
When & Where

The Garneau Theatre
8712 109 St
Edmonton, Alberta
Canada

Saturday, September 22, 2012 from 6:00 PM to 9:30 PM (MDT)
Add to my calendar
Organizer
The Alberta Council for Global Cooperation