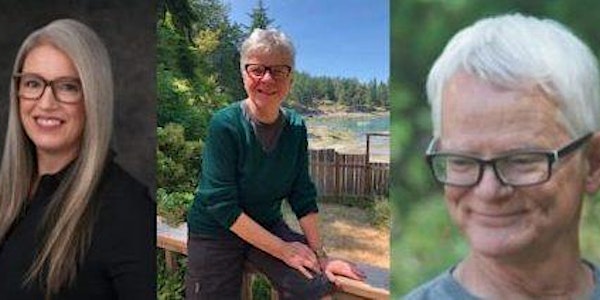 An Afternoon in the Park with Susan Juby,Arleen Paré, and Grant Buday
Join us for an afternoon in the park with Susan Juby, Arleen Paré, and Grant Buday.
When and where
Location
Pioneer Park 7130 West Saanich Road Brentwood Bay, BC V8M 1P8 Canada
About this event
Susan Juby was raised in Smithers, BC and has lived in Toronto, Vancouver, and Nanaimo. Her most recent novel is Mindful of Murder, a cozy mystery set on a fictional Gulf Island. Her novels have been published all over the world and awarded many prizes and honours. Republic of Dirt won the Leacock Medal for Humour and The Woefield Poultry Collective was a Leacock nominee. Susan lives in Nanaimo.
Arleen Paré is a Salish Sea writer with eight collections of poetry as well as a recent chapbook. Her latest book is Time out of Time. She has been short-listed for the BC Dorothy Livesay BC Award for Poetry and has won a Golden Crown Award for Poetry, the Victoria Butler Book Prize, a CBC Bookie Award, and a Governor Generals' Award for Poetry. She lives in Victoria.
Grant Buday is the author of several novels and two memoirs. His latest novel, Orphans of Empire, taking place in early British Columbia, was a finalist for the BC and Yukon Roderick Haig Brown Regional Prize and the City of Victoria Prize. Two of his books, White Lung and Monday Night Man, were nominated for the Vancouver Book Prize. His short fiction has appeared in the Journey Prize Anthology and Best Canadian Short Stories. He lives on Mayne Island.
Although this event is advertised as "free" on Eventbrite, we are requesting donations ($10 suggested).