Description
The Victoria Brain Injury Society (VBIS) proudly presents the 9th Annual Evening of Black & White…Because Grey Matters Gala Fundraiser in the Pacific Ballroom of the four-star Victoria Marriott Inner Harbour Hotel on Saturday, November 3, 2018. This captivating evening features a jazz concert with acclaimed Victoria talent Edie DaPonte and her band, a cider and ale reception, tapas, silent and live auctions and much more. Check out Edie's website to hear some of her amazing music.
The Music
Edie Daponte has established a reputation in the music scene of Vancouver Island and Western Canada as a dynamic and engaging performer. Edie brings passion, playfulness and an evident love of performance to her live shows. Vancouver island Music Awards awarded Edie with "Jazz Recording of the Year" in 2017 for her original song "Island Rain" and nominated her as "Vocalist of the Year" in 2016. Edie's original song 'Ride the Wind' has been nominated in the Traditional category for the 2017 International Portuguese Music Awards (IPMA) . Emotive, playful and passionate, Edie's voice lends itself perfectly to a wide range of jazz standards, seamlessly moving from jazz to Bossa Nova and back again, switching between English, Portuguese, Spanish and French numbers with ease.
The Cider and Ale
The gala features a complimentary cider and ale reception for all guests from 6.30-7.30 courtesy of Sea Cider and Driftwood Brewery.
The Food
Guests will be able to enjoy a delicious tapas style small plates dinner with many delicious choices of hot and cold dishes. The culinary team find inspiration in local, sustainable, fresh ingredients readily abundant along the Pacific Coast.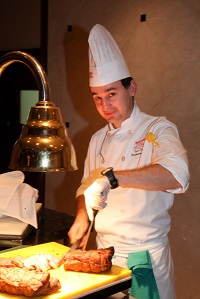 Why Grey Matters
Brain injuries are the number one killer and disabler of people under 44

Brain injury is more prevalent than breast cancer, spinal cord injury and HIV/AIDS combined

1 in 26 Canadians are living with a brain injury
The Victoria Brain injury Society is one of the only non-profit agencies in Victoria providing services to survivors and their families. The ongoing media focus on concussions has led to a huge increase in the number of people accessing our services. Last year Victoria Brain Injury Society was approached for support by 259 new brain injury clients. Your purchase of tickets to the gala will go a long way towards helping us expand our support to brain injury survivors and their families.
Special Offer from the Marriott
For those guests who would prefer to simply take the elevator "home", the Marriott has extended a special $129 offer for an overnight stay at the 4 diamond hotel. You can book by phoning reservations at 1- 866-306-5451 and asking for the VICTORIA BRAIN INJURY Society group rate or, if you prefer, book online. Book by November 1, 2018.
Silent and Live Auctions
An array of exciting silent auction items will greet you at the reception. The silent auction will remain open until the end of the intermission. Following that a half-dozen exciting items and experiences will be offered via a live auction. To expedite the bidding process, we invite you to register your credit card by contacting lindsayb@vbis.ca.