We welcome you to a wonderful evening of music for harp and violin by a very special mother-daughter duo live from Pittsburgh!
About this event
It's not often we get to hear the fantastic combination of harp and violin. Join us for an evening of chamber music for this ensemble. We have two fantastic musicians joining us live from Pittsburgh, PA.
If you can not join at exactly 6 PM (Pacific) - 9 PM (Eastern) on Friday, August 21st, 2020, then simply make a donation and you can enjoy the concert at any time convenient to you!
REPERTOIRE
Louis Spohr (1784-1859) - Violin Sonata No.1 in c minor, WoO 23 (1805)
I. Adagio - Allegro vivace
II. Andante - Allegro
Camille Saint-Saëns (1835-1921) - Fantaisie for Violin and Harp, Op.124 (1907)
Sebastian Currier (b. 1959) - Night Time Suite (1998) ~ 19'
I. Dusk
II. Sleepless
III. Vespers
IV. Nightwind
V. Starlight
Carolyn Edwards joined the Pittsburgh Symphony Orchestra in 1987.
By the time she was three, she knew she wanted to become a violinist. Her musical family (trumpeter father, pianist mother (who earned a Bachelor of Music degree at the age of 72), a sister who would become a professional violinist and a brother who would marry one) took her to many Detroit Symphony concerts and encouraged her to learn the piano--which she did reluctantly. After her grandfather's death, the family discovered his violin hidden away in the attic and Carolyn began violin lessons.
Carolyn Edwards, who also holds a B.A. in Art History from Smith College, studied music at Cass Tech in Detroit, the Curtis Institute of Music in Philadelphia and Boston University. Her principal teachers included Michael Avsharian, Ivan Galamian and Joseph Silverstein.
She has served as assistant principal violin with the Syracuse Symphony Orchestra and principal second violin with the Springfield Symphony Orchestra. In Boston she played in the Boston Ballet and Boston Pops Esplanade orchestras, the Boston Opera Company, Boston Lyric Opera and Boston Concert Opera. For several years she was a member of the New Hampshire Symphony and Harvard Chamber Orchestra. She will continue as an active chamber player and teacher after retirement from the PSO next year.
Beyond music, her interests include art, architecture, ice skating and environmental issues.
Chelsea Lane graduated from Yale University with a B.A. in Music, completed her M.A. in Harp Performance at the Royal Conservatory in Brussels, and is currently pursuing her D.M.A. in Music Performance at The Graduate Center, CUNY. She was a co-chair of this past year's Christmas Spectacular Starring the Radio City Rockettes, and has performed with various other professional orchestras on a per-service basis, including the Czech Philharmonic, Pittsburgh Symphony Orchestra, Wheeling Symphony Orchestra, and New World Symphony. Chelsea is a prizewinner of several international and national harp competitions, including the American Harp Society's Young Professional Division, ASTA National Solo Competition, and the Lyon and Healy Awards, and has performed concertos in New York City, Brussels, New Haven, Minnesota, and Pittsburgh. In addition to performing, she teaches harp privately and serves as adjunct faculty at the College of Staten Island and Lehman College.
Please visit: http://www.chelsealaneharp.com/biography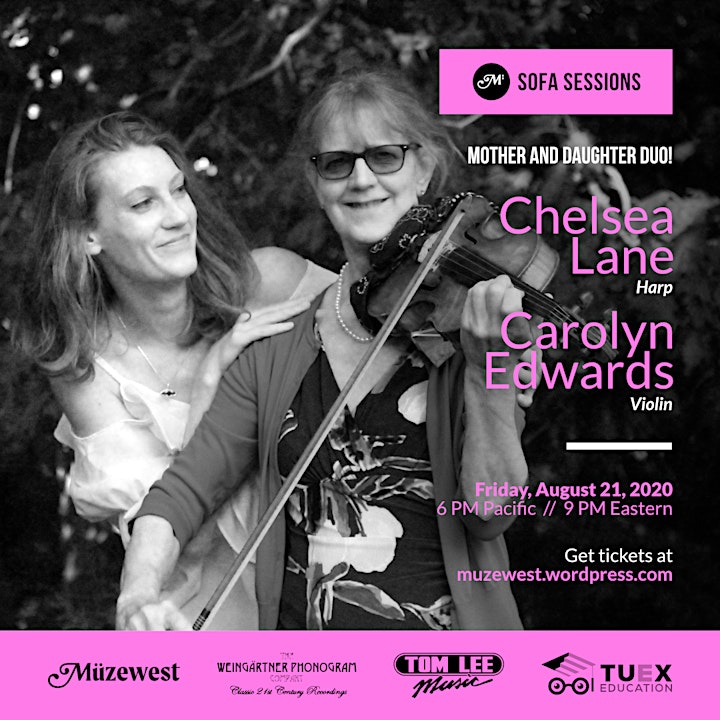 Organizer of An evening of music for harp and violin - Chelsea Lane and Carolyn Edwards