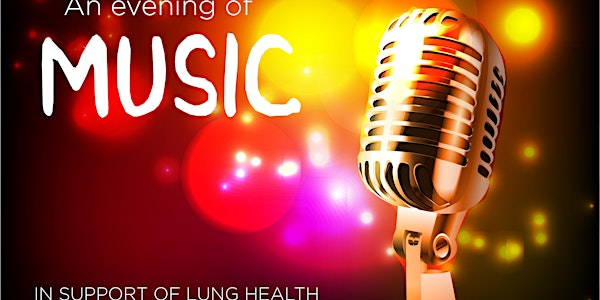 An evening of soft jazz & toe-tapping celtic music in support of lung healt...
Event Information
Location
Halifax Distilling Co.
1668 Lower Water Street
Halifax, NS B3J 1S4
Canada
Refund policy
Refunds up to 1 day before event
Eventbrite's fee is nonrefundable.
Description
Join us on October 30, 2019 at the Halifax Distilling Co. for a night of soft, romantic jazz and toe-tapping Celtic music! This DOUBLE BILL includes the Standard Time Quintet featuring Irene Wilkinson and Georges Herbert as well as Rissesco & Sampson.
Irene Wilkinson and Georges Hebert
Although her formal qualifications are in biomedical science (cancer research), vocalist Irene Wilkinson has worked, for much of her life, in fine and performing arts, as a graphic artist, musician, singer, songwriter, radio producer with CBC, dance teacher, artistic and technical director, scriptwriter & choreographer, motivational speaker and in educational support for children at risk (she continues her work as a writer/presenter in this field and the results of her research are published in various educational journals). Irene travelled extensively throughout her native England and in Europe as part of the band "Hermanas" with her sister, Carole. Tours of France, Spain, Switzerland, Yugoslavia, Italy, Sardinia and Sicily led to the release of a record which made the top seller list in Sicily. Soon after her marriage in 1974, she followed her husband, Peter, to Nova Scotia where she became involved with the theatre and eventually applied her talents to radio variety with CBC. She recorded and produced programs for the national network and introduced Canadian audiences to current popular music from other countries ("Pop Over the World") exposing an underground and thriving jazz movement, in what was then the U.S.S.R., by means of a two-part documentary heard across the network on Jazz Radio Canada.
Guitarist, sound engineer and producer, Georges Hebert, began playing guitar in the early 60s, influenced by Chet Atkins, Django Reinhardt, Barney Kessel and Charlie Byrd amongst others. He is perhaps best known for his working and touring alongside Anne Murray for 30 years (he was her personal guitarist). Georges has performed in the Maritimes, with the Brunswick Playboys, Frank's Bandstand and sing-a-long Jubilee, among many others. In Toronto, Georges was lead guitarist with Ian Tyson's Great Speckled Bird. He has been featured on several television shows including The Johnny Carson show, The Merv Griffin Show, The Boston Pops, The Tonight Show, and BBC-TV as well as television programs in Germany and Holland. Georges has toured the world, playing in well-known concert halls like Carnegie Hall, Radio City Music Hall in New York, The Greek Theatre in Los Angeles, London's Royal Albert Hall, and many others. He has also played with the who's who of show business all over the globe including esteemed celebrities including Canadian Brian Adams. He has a history producing and recording over 60 CD's including 6 of his own. He continues his busy life of touring, playing and recording in his studio (Studio Arts) in Bedford, Nova Scotia.
Anthony Rissesco and Doug Sampson
Anthony Rissesco is a contemporary violinist who performs folk, fiddle, rock, classical and more. He was a student of Jan Wicha and Philippe Djokic. He has toured for many years with Lennie Gallant and appeared on Lennie's album "live Acoustic at the Carleton" which received a Canadian Folk Music award. Anthony has been on many festival stages across the U.S with roots rock band "Pogey" He has played and toured with many artists from the Maritimes such as Bruce Guthro and Anne Murray. He has been a guest performer with Symphony Nova Scotia several times either performing with Lennie Gallant or playing fiddle medleys and singing folk songs. He is part of the trio "Papilio" which has released its second CD and whose first was nominated for an ECMA and Music Nova Scotia awards. He grew up playing in the "down east old time tradition"and competed in fiddling competitions across the country. He is a first place prize winner in five Canadian provinces and has represented Nova Scotia at the Canadian Grand Masters several times. Anthony is 3rd prize winner at the Canadian open. He is also a past Maritime fiddle champion and recently a judge at that oldest of Canadian fiddle competitions.
Guitarist Doug Sampson has spent more then 40 years on the local entertainment circut in Nova Scotia and is well known for his expertise with Celtic styles, perhaps most especially for his work alongside fiddler Anthony Rissesco in Rissesco & Sampson. In the 90's he toured with Brakin' tradition and has shared the stage with esteemed artists such as The Rankin Family, The Barra Macneils, Rawlins Cross, The Irish Descendants, and many more. Although famous within the Maritimes Doug Sampson has made his international prescence known opening for stars such as Kenny Rogers, Mel Tillis, John Prince, Loudon Wainwright, and Taj Mahal.
LISTEN TO STANDARD TIME: click on the link https://standardtimetrio.bandcamp.com/releases
Vocalist Irene Wilkinson also organizes benefit concerts for charities that do not receive government funding. So far, almost all of Standard Time's ticketed benefit concerts have sold out and they have been able to donate more than $8000 to three different charities over the last 3 years.
SAMPLES OF AUDIENCE RESPONSE:
"The evening was BRILLANT, BRILLANT, BRILLANT. One could call it "Broadway on Gottingen". PC
"LOVE the music… Kurt Weill, the Jobim-style Bossa Novas, Cole Porter, you name it...! It was wonderful that you gave background info and anecdotes on the various standards too. " CK
"Your voice conveyed the songs so well, the words so clear, and always that love of music and of everybody you were singing to. I would love to hear this trio again." BR
Date and time
Location
Halifax Distilling Co.
1668 Lower Water Street
Halifax, NS B3J 1S4
Canada
Refund policy
Refunds up to 1 day before event
Eventbrite's fee is nonrefundable.