Trance Communication & Healing with medium Rickie Avitan
About this event
Rickie has been going into spontaneous trance states ever since she remembers herself. Rickie has been consciously working with altered state of consciousness since 2011.
There are two main spirit friends who are working very closely with Rickie. One presents himself as a teacher and the other as a healer. During the trance healing session normally the teacher opens and greed the audience and the healer follow and delivers the healing energies. Rickie will move into an altered state of consciousness surrendering to her spirit friends to share their love, wisdom and healing. Trance healing works on the emotional, mental and spiritual level. Trance is not mysterious it is simply an altered state of consciousness consenting to be channel to God.
During and after the trance healing session you may experience change in atmospheric energy, you may experience heat, cold, movement within your physical body, you may experience emotions or you may have no experience at the moment of delivery but you will experience the healing in more subtle form. The healing continues for days after the trance healing demonstration.
This is an experiment and not a replacement for medical treatment.All Rickie ask of you is to come with an open mind, love and a curiosity to life.
Come with an open mind, loving heart, and a curiosity for life.
When: Saturday June 19 @ 7 pm (Pacific)
Where: Zoom Link will be sent out to ticket holders
Cost: $20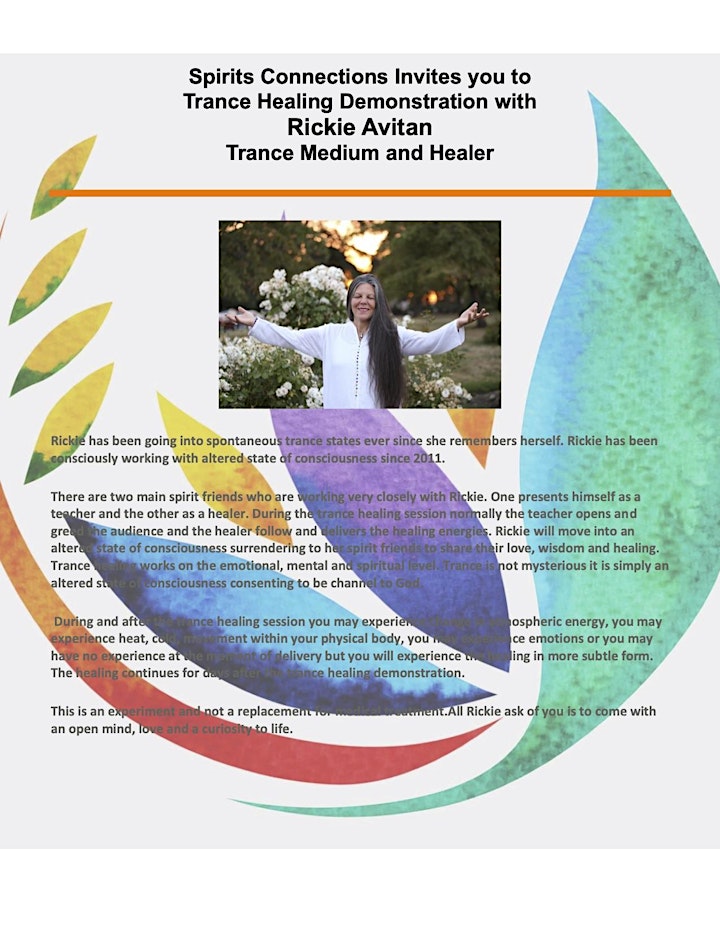 Date and time
Location
Refund policy
Organizer of An Evening of Trance Communication & Healing with Rickie Avitan