UPDATED LOCATION!!!
10 Carden - Heritage Room - 10 Carden Street, Guelph, ON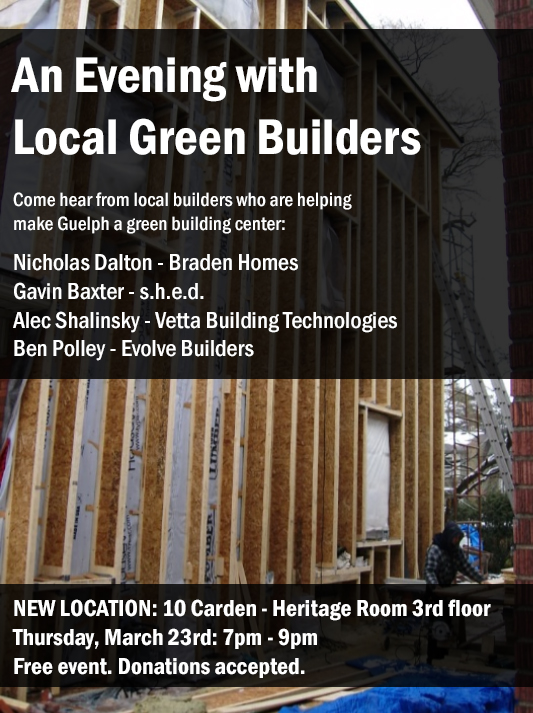 Come hear from three local builders who are helping put Guelph on the map as a green building center in Ontario:
Nick Dalton, Braden Homes, www.bradenhomes.ca
Nick Dalton is partner of Braden Homes, formed in 1986. The firm specializes in air tight, low-tech, low energy homes utilizing double offset stud exterior walls, a building concept originally developed in Saskatchewan back in the 1970's. Some of you may be familiar with Howard Orr's "Saskatchewan House" which is considered to be the origin of what today we call Passive House.
Gavin Baxter, , s.h.e.d. Ltd., www.shedlightly.com
s.h.e.d. Ltd. Is co-owned by Guelph builders Gavin Baxter and Eric Small. SHED stands for Strategic Healthy Ecological Design). Gavin will talk about SHED's design/build process which focuses on long term home use planning. Besides energy efficiency, SHED's design process focuses on core values of accessibility and multi-generational /ageing in place. SHED have successfully completed a few projects using this process and are currently working on three more projects this year. SHED has an interest in working with communal housing projects, like co-housing or other shared ownership models. Gavin is also currently designing an Active House for his own family.
Alec Shalinsky, Vetta Building Technologies, www.vettabuilding.com
Alec has been building homes for over 20 years, starting with an ICF house in British Columbia followed by a ultra-low energy home in Piedmont, Italy built to Casa Clima standard (Italian PassivHaus equivalent), and currently an eco-renovation of an historical century home in Stratford, Ontario. Vetta Building Technologies supplies a number of eco-building products including PassivHaus-certified windows & doors.
Ben Polley, Evolve Builders Group Inc., www.evolvebuilders.ca
Ben Polley is Founder Evolve Builders Group Inc, Harvest Homes, and mobEE portable classrooms. A personal interest in natural building subsequently led Ben to found residential strawbale wall contractor Harvest Homes in 2000. Surrounding himself with gifted craftspeople and trades, Ben spun off Evolve Builders Group Inc as a sister company in 2006, crafting a breadth of award winning green building, eco-renovation, efficiency retrofit and heritage restoration and now, Passiv Haus projects across southern Ontario. Today these enterprises include two additional brands, 18 full time employees over three geographical bases of operation, a research and development arm regularly sought out by academic and commercial partners, plus mobEE – a naturally built portable classroom available across North America. Always keen to share experiences, Ben is also a popular university and community guest lecturer.