About this Event
As part of the nationwide Rally for Rivers movement, Sadhguru has just launched the 'Cauvery Calling' campaign aiming to revitalize the fast-depleting Cauvery river in India. Cauvery has been the source of wellbeing, prosperity, and the very source of life for these lands. A forest-fed perennial river is fast becoming a seasonal stream as 87% of tree cover has been removed in 50 years.
In a campaign called Cauvery Calling, Sadhguru has committed to raising funds to plant 2.4 billion agro-forestry trees along the river's basin over the next 12 years. This plan will see increase water retention in the Cauvery basin by an estimated 40%. Furthermore, farmer incomes will be augmented by 3-8 times in next 5 to 7 years.
Radhe Jaggi, a renowned Bharatanatyam dancer is performing in several cities in the US and Canada, to raise awareness of the campaign. Radhe will be accompanied by local performances from: Rita Karmakar, Malavika Venkatsubbaiah & Natyam Ensemble, and the Ekta Dance group.
Venue: Magnolia Hall, Calgary
Doors open at 6pm
Event 7pm-9pm
Tickets are by donation; every $1 raised through ticket sales amounts to 1 tree. Suggested donation amount for one ticket is $25, which would donate 25 trees to the campaign. For those who wish to contribute a different amount, please visit the following link: https://forms.gle/rNDU19dVUcHwJ8Cg7
You are warmly invited to attend, enjoy the performances and support Cauvery Calling. If you wish to learn more about the campaign, please visit CauveryCalling.org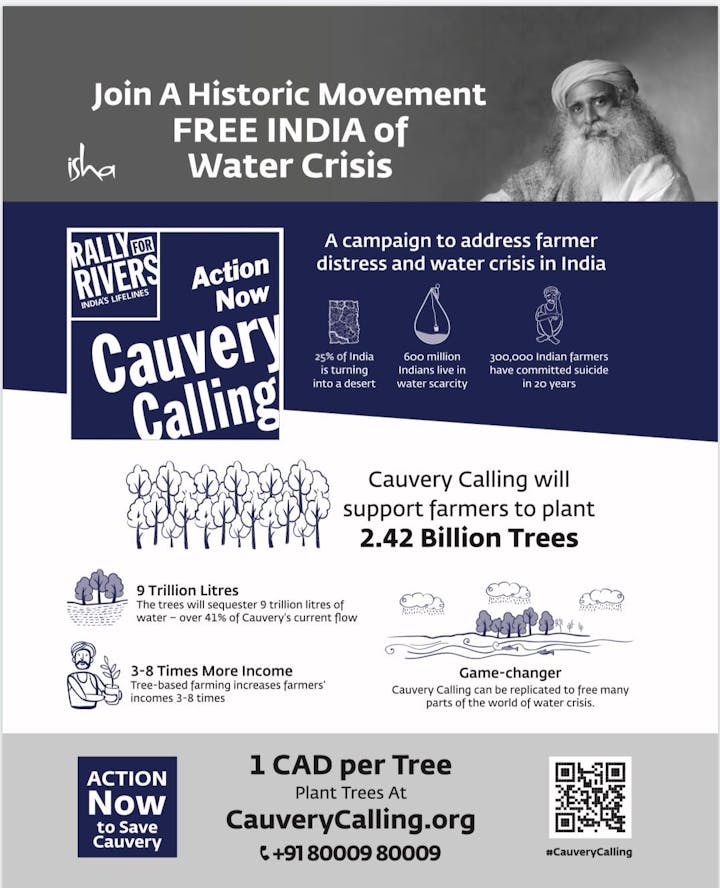 Here in Alberta, rivers like the Bow and Old man are in decline as development continues to add strain to our water systems. Our water systems are integral to our energy and agricultural industries which draw upon a lot of Alberta's available water. Canadians are the 3rd largest user per capita, of water in the world at over 1600 gal/person/day. Cauvery serves as a model for us to care for our own water systems and for those who make their living from the water.