An Evening With Richard Van Camp + Apache Chronicle

Saturday, 9 November 2013 from 7:00 PM to 10:30 PM (PST)
Event Details
The Lesser Blessed: An Evening With Richard Van Camp -co-presented by the UBC First Nations Studies Program7pm | SFU Woodwards Cinema, 149 West Hastings | $10
Join VIMAF and co-presentor the UBC First Nations Studies Program for a special screening of The Lesser Blessed, the film adaptation of Richard's Van Camp's beautiful novel of the same name, and following the film enjoy a Q&A with Richard Van Camp!
https://www.facebook.com/events/663501817000965/
The Lesser Blessed | Drama | 86m
Based on the critically acclaimed novel by Richard Van Camp, The Lesser Blessed is an eye-opening depiction of what it is like to be a vulnerable teenager in today's modern world. Through the eyes of Larry Sole, a First Nation teenager filled with bravado and angst, fragile and yet angry, seeking clarity clouded by confusion, seeking to belong without belonging, comes the story of three unlikely friends isolated in a small rural town discovering what they can of life and love amid racial tensions and the recklessness of youth, in a world clouded by a dark mystery from his past.
Starring in The Lesser Blessed is Joel Nathan Evans, Kiowa Gordon, Chloe Rose and Benjamin Bratt.
http://vimeo.com/48768364
Storyteller | Director Anita Doron was born in Transcarpathia, a little known land of nomadic ghosts, barley mush and apricot brandy. She was one of the youngest published poets in the former USSR and grew up in a family of high altitude mountaineers. Anita's films have been exhibited at the Toronto International Film Festival, South By South West, The Future of Cinema Salon at Cannes and at the International Film Festival Rotterdam. Her latest feature film, The Lesser Blessed, premiered at the 2012 Toronto International Film Festival and in 2013 received a Canadian Screen Awards nomination for Best Adapted Screenplay (She lost to Salman Rushdie). Anita and her partner, Adam Huggins, are TED Fellows. They moved across India, the Middle East and Brazil, where they organize a TEDx conference. After over 2 years of nomadic bliss, they currently reside on Wolfe Island, Canada. - http://www.anitadoron.com
Celebrated author Richard Van Camp is a proud member of the Dogrib (Tlicho) Nation from Fort Smith, NWT, Canada. He is a graduate of the En'owkin International School of Writing, the University of Victoria's Creative Writing BFA Program, and the Master's Degree in Creative Writing at the University of British Columbia. He is an internationally renowned storyteller and best-selling author. His novel, The Lesser Blessed is now a movie with First Generation Films, and premiered in September of 2012 at the Toronto International Film Festival. He is the author of three collections of short stories, Angel Wing Splash Pattern, The Moon of Letting Go and Godless but Loyal to Heaven, as well as two children's books with Cree artist, George Littlechild: A Man Called Raven and What's the Most Beautiful Thing You Know About Horses? His third book for babies, Little You, was just published and translated into Bush Cree, Dene and South Slavey.
 Event supported by SFU Woodward's Cultural Unit.
9:15 | Richard Van Camp Short Films + Apache Chronicle
$10 - SFU Cinema, 149 West Hastings
Mohawk Midnight Runners | 15 mins | Karahkwenhawi Zoe Hopkins
Firebear Called Them Faith Healers | 17 mins | Kelvin Redvers
Apache Chronicle | 41 mins | Nanna Delunde
11pm | Indigenous Afterdark II
$20 | Venue VIMAF Salon - 877 East Hastings
Featuring Dani & Lizzy, Starmakerz, and guests!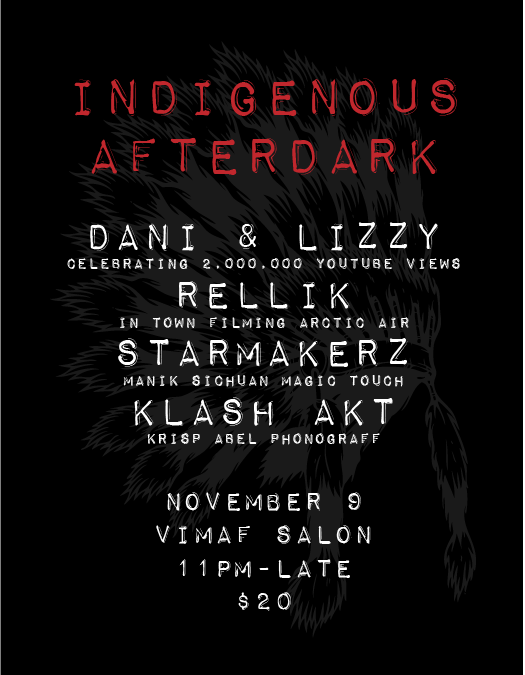 VIMAF Membership
To attend events at VIMAF, you must be a member of our registered nonprofit society. Your membership card is proof that you are a member, and you are required to present it at every screening that you attend. Membership is valid until September 30, 2014.
As a member-based organization your membership helps sustain us and keeps you connected to Indigenous media arts on the west coast. There are two levels of membership, voting and non-voting. Non-Voting membership is $2 and is required to attend all VIMAF festival events.  
Support VIMAF and strengthen your connection with the community with a voting membership. To support more members joining, our regular voting membership is $40, and a sliding scale option is $20-40 (pay what you can). Make cheques payable 'VIMAF.' You can purchase limited edition merchandise, join committees, and shape the future as a registered voting member at our Annual General Meeting.
We need to know who our members are! Please fill in your membership information online or in person (and return it to any VIMAF staff or volunteer). Members are emailed or sent via postal mail VIMAF programming and submission updates. You can opt out of receiving our emails at any time and VIMAF will not share your membership information with anyone.
When & Where

SFU Woodwards Cinema
149 W Hastings St
Vancouver, BC V6B 1H7
Canada

Saturday, 9 November 2013 from 7:00 PM to 10:30 PM (PST)
Add to my calendar
Organizer
VIMAF is located on beautiful Coast Salish territory of the Musqueam, Squamish and Tsleil-Waututh in Vancouver BC. VIMAF's 2017 Festival 2017 has been named nə́c̓aʔmat ct (/Naat-sah-maat/) meaning, "We Are One" in the Musqueam language of hən̓q̓əmin̓əm̓ provided by Musqueam Knowledge Keeper Shane Point. nə́c̓aʔmat ct recognizes the tradition of gathering Indigenous artists and communities together in a modern context to share in the richness of Indigenous media arts. VIMAF's 2017 Festival is redistributing the wealth in providing an experiential feast sharing, gifting, witnessing, and celebrating the media art works of our powerfully talented community as one people