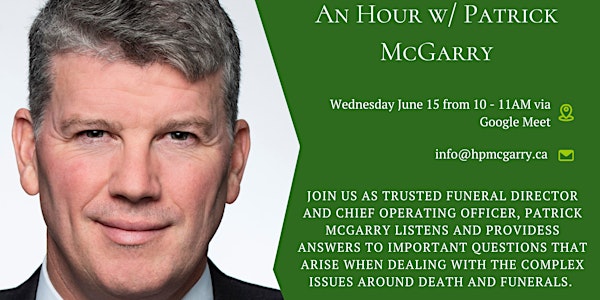 An Hour w/ Patrick McGarry from Hulse, Playfair and McGarry Funeral Homes
An Hour w/ Patrick McGarry from Hulse, Playfair and McGarry Funeral Homes
About this event
What is an executor of a will?
Why is preplanning a funeral important and how does it work?
As part of an ongoing series of workshops designed to help inform our community about important life issues, Hulse, Playfair & McGarry is proud to provide 'An Hour w/ Patrick McGarry'.
Join us Wednesday June 15 from 10 - 11 AM via Google Meet, as trusted funeral director and Chief Operating Officer, Patrick McGarry listens and provides answers to important questions that arise when dealing with the complex issues around death and funerals.
Limited engagement, reserve your seat today.
We welcome you to pre-submit your questions via email at info@hpmcgarry.ca