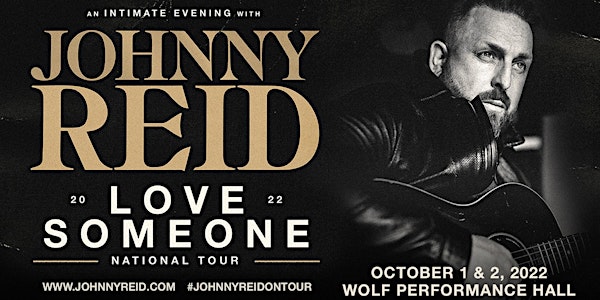 An Intimate Evening with Johnny Reid
Location
Wolf Performance Hall
251 Dundas St
London, ON N6A 6H9
Canada
Sunday, October 2nd, 2022 | 7:30pm
About this event
An Intimate Evening with Johnny Reid
Tartan Army Fanclub Pre-Sale: Wednesday, November 24th - 10:00am/3:00pm
Radio/Venue Pre-Sale On-Sale: Thursday, November 25th -10:00am
Public On-Sale: Friday, November 26th - 10:00am
Tickets
Multi-Platinum, award winning artist Johnny Reid announced his 2022 Canadian tour, Love Someone: An Intimate Evening with Johnny Reid. The national tour kicks off on February 10 in London, ON at Centennial Hall and is set to be one of the longest running artist tours in Canadian history with over one hundred shows once all tour dates are announced. Boasting a stripped-down set and stops in smaller communities that rarely get to see an artist of Reid's caliber during a National tour, Reid is making it his mission to connect directly with fans across the country.
Love Someone is Reid's 11th studio album and was released on October 15 via Universal Music Canada. A return to his country roots, the album marks his most inspired collection of songs to date. Complementing the album's inherent intimacy, the tour will give fans a rare chance to hear Reid live in a highly up close and personal setting as opposed to the major market venues and colossal crowds he typically draws. The past ten years has seen Reid perform to over 1 million people; on this tour, fans can expect an uplifting evening of songs and storytelling with the chart-topping, singer-songwriter.
-----------------------------------------------------------------
COVID-19 POLICY
Effective October 13, 2021, all public, age 12 and over, entering the venue for any event will be required to show proof of being fully vaccinated against the COVID-19 virus (at least 2 weeks after final dose). Patrons under 12 years of age need to be accompanied with a fully vaccinated adult.
Patrons with valid medical restriction and medical note will be required to take a COVID-19 test within 48 hours prior to event and provide proof of negative result prior to entering the venue.
Current methods of acceptable "proof" are: 1) physical copy of Ontario Ministry of Health vaccination receipt indicating individual has received 2 doses of acceptable vaccines, or 2) Electronic copy of
Ontario Ministry of Health vaccination receipt indicating individual has received 2 doses of acceptable vaccines. Picture ID is also required.
Face masks will be required as per Step 3 protocols from the Ontario Government except for brief times when eating or drinking,
Refunds will be available to patrons that cannot produce valid/acceptable proof of vaccination. Refunds will be made to original purchaser of the tickets.
Once doors are open to public, no spectator will be allowed to exit and reenter the venue. This includes exiting for the purpose of smoking. Masks are mandatory.
Questions? Email: admin@jonesentertainmentgroup.ca