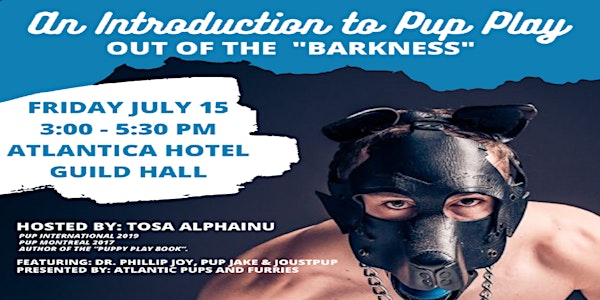 An Introduction to Pup Play: Out of the Barkness!
An Introduction to Pup Play, hosted by Tosa Alphainu
When and where
Location
Atlantica Hotel Halifax - Guild Hall 1980 Robie Street Halifax, NS B3H 3G5 Canada
About this event
"Pup play" is rapidly growing in popularity, especially within the 2SLGBTQ+ community, and for good reason. This form of role-play invites participants to temporarily escape the human condition and enter a space where anxieties, fears and day-to-day responsibilities give way to belly scratches, toys, and praise. It's a dog's life! This workshop will be led by pup icon Tosa Alphainu, Pup International 2019, Pup Montreal 2017, and author of the "Puppy Play Book". We will discuss some basic questions, including: What is pup play? Why would I want to be a pup? Is it always about sex? What is "headspace"? What is a handler? How do I stay safe? How do I get started? Do I need special gear? There will be a general Q&A session, and demonstrations by Pup Jake!
Phillip Joy, PhD, Assistant Professor, MSVU, will also be on hand to discuss his current academic research into the pup community, including how participation in pup play shapes and influences body image.
A pup play area with mats will be available for those who want to try pupping out! Everyone is welcome.
Admission is free; however, attendance is limited, and we do ask that you register in advance.
NEW: Attendees will be entered into a free draw for a special gift package courtesy of Mistrbear Montreal (www.mistrbear.com). Thank you, Mistrbear, for supporting our event!