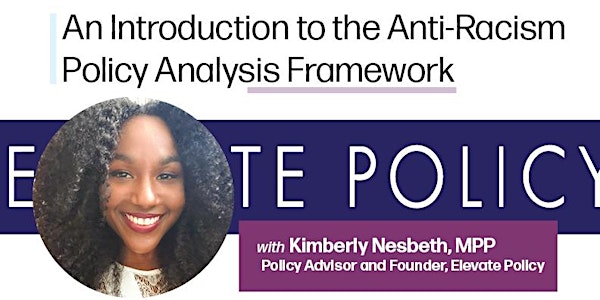 An Introduction to the Anti-Racism Policy Analysis Framework
This Elevate Policy webinar will discuss the Anti-Racism Policy Analysis Framework and provide an overview of its areas of focus.
Refund Policy
Refunds up to 1 day before event
Eventbrite's fee is nonrefundable.
About this event
Event Description:
There is a substantial gap in the policy literature and in practice about what anti-racism policy analysis actually looks like. People who engage in it should be able to draw on accessible frameworks that can be applied quickly and effectively. Anti-racism policy analysis is a crucial part of elevating Canadian policy-making.
This Elevate Policy webinar will provide an introduction and overview of the Anti-Racism Policy Analysis Framework, which was created in 2021 as a guide to support analysis. Featuring Kimberly Nesbeth, the founder of Elevate Policy, the webinar will delve into the context of anti-racism in policy settings, particularly in public policy and organizational policy.
The webinar will focus on anti-racism policy analysis, Elevate Policy's area of specialization, and will situate it within the policy process. There will be a brief Q & A period following the main presentation, allowing for attendees to continue the conversation with Kimberly. The webinar will be held via Zoom.
Tickets:
You are invited to purchase tickets using a pay-what-you-can approach. Community members are invited to select the "Free Admission" tickets or purchase tickets. Your support is much appreciated.
Refunds:
Requests for refunds will be accepted until December 15, 2022 at 3:00pm EST. Please email kimberly@elevatepolicy.com to request a refund. Note that Eventbrite's fees are non-refundable.
Thank you for your interest and support!
About Kimberly Nesbeth, MPP:
Kimberly Nesbeth is a community- and human rights-focused policy advisor and social entrepreneur. She was born in St. Catherine, Jamaica to a family of West African and Indian ancestry, and grew up in neighbourhoods across Toronto. Kimberly attended the University of Toronto for her Master's in Public Policy (MPP) and Toronto Metropolitan University for her Bachelor's in Psychology.
In addition to her consulting work, Kimberly has worked with a range of organizations, including the Ontario Federation of Indigenous Friendship Centres and the Toronto Community Benefits Network. In 2018, Kimberly founded Elevate Policy, a social enterprise that provides inclusive policy consulting services. Kimberly specializes in anti-racism policy analysis and develops tools to help others in bringing anti-racism and policy together to support equitable outcomes.
About Elevate Policy
Elevate Policy is a social-purpose consulting and advocacy platform that helps to connect people, organizations, and groups with the policy process. Through technical policy support such as policy analysis and monitoring, strategic policy support, as well as knowledge-building research support, Elevate Policy helps to address the gap in understanding that often exists between communities and policymakers, and seeks to provide groups and organizations with tools to advance their voice, positions, and impact the development of policies. Visit elevatepolicy.com to learn more.