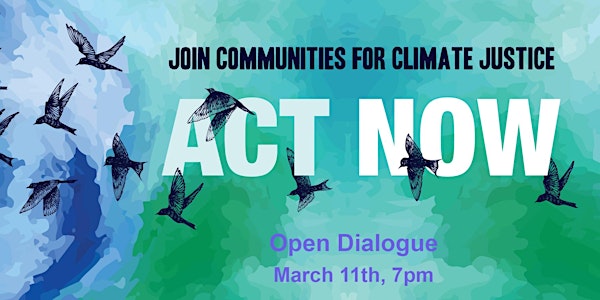 An Open Dialogue about Faith Leadership on Climate Justice in WR
In follow-up to the 50by30 Faith event, organizers are inviting all interested people of faith and goodwill to join an open dialogue.
About this event
In follow-up to the co-hosted "50by30 Faith event"(full recording here), the organizers at Faith Climate Justice WR and Ecumenical Climate Justice Alliance invite all interested people of faith and goodwill to join in an open, facilitated dialogue on how to best support faith-based leadership for climate justice in Waterloo Region.  
This dialogue is scheduled for Thursday, March 11th, 7-8:30pm. Participants will be invited to:
·     Share about the good work for climate justice already taking place in this region.
·     Imagine what a larger support network for faith-based climate leadership could look like in Waterloo region.
This will be an open dialogue hosted via Zoom, and will be facilitated to give all participants an opportunity to contribute, with key guiding questions to help structure our conversation. This is an opportunity to help shape the future for how we can collaborate across our region in support of climate justice. 
Please register here if you would like to join in this important conversation. It would be great if you could please include information about your faith affiliations along with any questions in the comment box when you register to help us all to better understand this landscape as we begin to organize. You can also reach out to us directly at: faithclimatejusticewr@gmail.com
Lastly, while all are welcome, where possible we encourage congregations to nominate one or several members to attend on behalf of your congregation, so that we can maximize the diversity of different communities present in the room for this conversation. A sample agenda with suggested questions to explore together will be shared in advance of the gathering and collective notes taken to share back with others unable to attend.
Thank you, and we look forward to collaborating with you to help grow the local movement for climate justice.