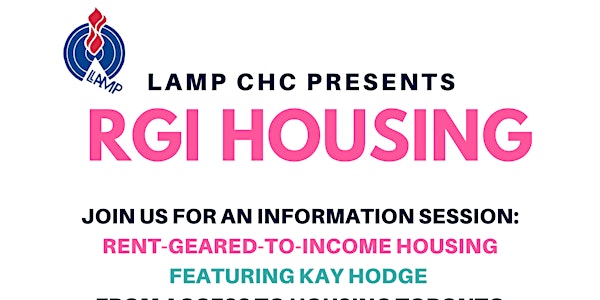 An RGI Information Session featuring Kay Hodge of Access to Housing Toronto
Join us for an informative RGI housing session featuring Kay Hodge for Access to Housing Toronto
About this event
LAMP is hosting a workshop on Zoom with information on how to get onto the City of Toronto's subsidized housing list. This session will explain what you need to provide and how the new system works. Join Kay Hodge of Access to Housing Toronto who manages the program. We will also discuss portable housing subsidies. The affordable housing series workshop will take place on Wednesday, July 13, 2 PM on Zoom. Please share this link with your neighbours.
If you are interested in other workshops on affordable housing please contact jasmind@lampchc.org or call 416 252 6471 ext. 308
Join LAHAAG for another workshop at LAMP on tenant's rights Wednesday July 20 at 6 pm. Masks are mandatory.. registration required.