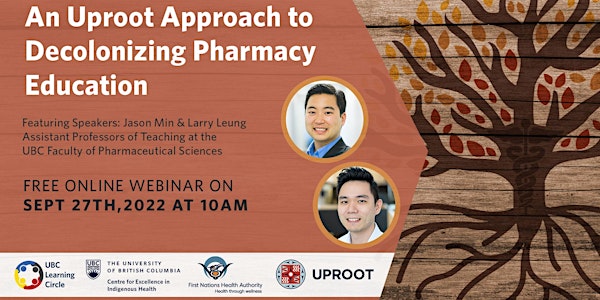 An Uproot Approach to Decolonizing Pharmacy Education
Come join us as we dive into the efforts of decolonizing and Indigenizing pharmacy education by the UPROOT team. We will explore the complex
About this event
Jason Min and Larry Leung are Assistant Professors of Teaching at the Faculty of Pharmaceutical Sciences, UBC. As non-Indigenous educators, their experience, dedication, and passion for Indigenous individuals, families, and communities, is a primary motivator in the pursuit of decolonizing and Indigenizing the pharmacy curriculum.
Larry and Jason use a Two-Eyed Seeing approach for culturally-safe course design. Their collaborative work includes the development and teaching of mandatory and elective Indigenous health content and preceptorship of students in an Indigenous health experiential practicum.
Since 2011, Larry and Jason have also meaningfully collaborated and maintained active partnerships with Indigenous communities across British Columbia in the development, delivery, and support of community-based projects. This community-engaged experience has supported and synergized their curricular and pedagogical work. Larry and Jason have also maintained positive working relationships with UBC supporting units such as the Centre for Excellence in Indigenous Health, Centre for Community-Engaged Learning, and the Xwi7xwa library. Their work has been recognized with a BC Community Achievement Award and the BCPhA Ben Gant Award for Innovation.