An XYBOOM Story Night | Unconventional Paths to Meaningful Work

Wednesday, 26 November 2014 from 5:30 PM to 9:00 PM (PST)
Event Details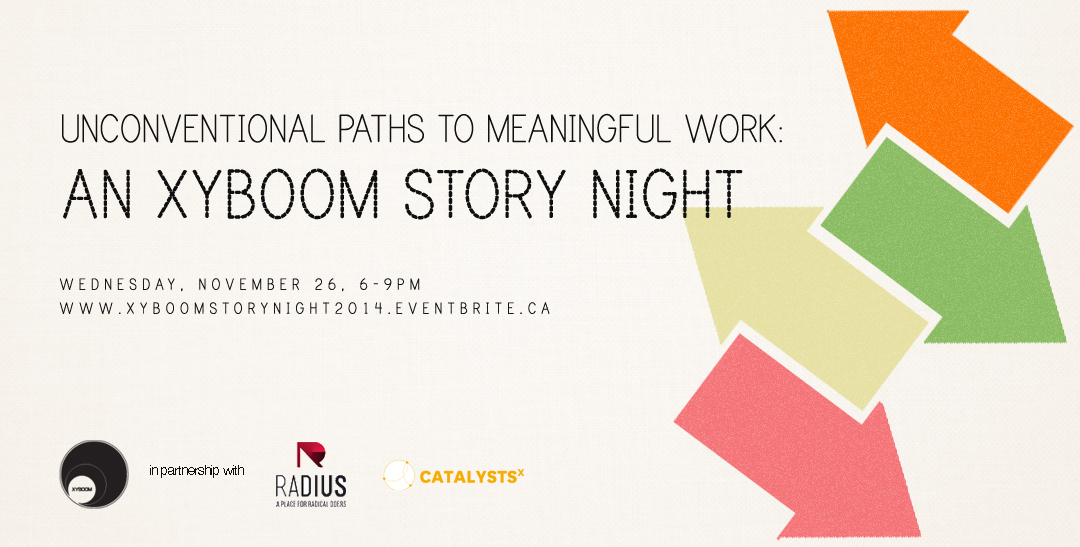 **Update! We are officially sold out of tickets! Unfortunately, we won't be able to accomodate any walk-in due to space restrictions. Only those who have registered through eventbrite will be admitted. If you were given access to a ticket via eventbrite but have not registered yet, please register immediately. THANKS!**
Do you want to create positive change in your community through a meaningful career? Are you thinking of transitioning out of traditional employment (or avoiding it completely!) to start a self-directed career? Do you want to define 'work' and 'success' on your own terms?
Hear and learn from 3 storytellers who are changemakers and unconventional entrepreneurs in a participatory workshop format that will inspire your next steps in making your goals around meaningful work a reality. 
For many, the concept of a 'dream job' is idealized, and yet, can feel out of reach. Despite this, more and more individuals are redefining what 'work' looks and feels like on their own terms. This XYBOOM Story Night is designed so that you will hear stories and learnings directly from people who are in various stages of doing just this - creating meaningful work through unconventional paths. Using facilitated participatory methods, this story night is an opportunity to meet like-minded individuals, hear from people about their struggles and successes, and even chart your potential next steps. 
---
FEATURED STORYTELLERS:
William Azaroff, Director of Business & Community Development, Vancity & Modo Car Co-Op Board Member
Storyteller Q&A with William 
William will be sharing his own unconventional path to meaningful work, which includes a transition from filmmaking to co-ops, community investment and much more. Check out William's website here, and you can find his twitter account here. 
Claudia Li, Co-Founder of the hua foundation, Global Ashoka Fellow
Storyteller Q&A with Claudia
Claudia will share her story of how she went from business school, to fighting for shark conservation, to building a non-profit dedicated to creating solutions and movements for the hua community that strengthen connections with culture, heritage and environmental sustainability. Click here for Claudia's twitter account. 
Annika Reinhardt, Founder of Social Bites
Storyteller Q&A with Annika

Annika will share her story of how made the transition from working full time at BC Hydro, to part time and then finally to being a full time self-employed entrepreneur focused on creating social impact. Annika does this through a variety of avenues including the Social Bite signature #dinnerpartyYVR, which connects Vancouverites at a simultaneous dinner party, hosted in homes across the city, all to benefit local charities.  Click here for Annika's twitter account. 
Doors will open for this event at 5:30pm to provide some networking time for everyone, as well as time to eat a light dinner before we start. The workshop will begin promptly at 6:00pm. 
This event is hosted in partnership with RADIUS and CatalystsX.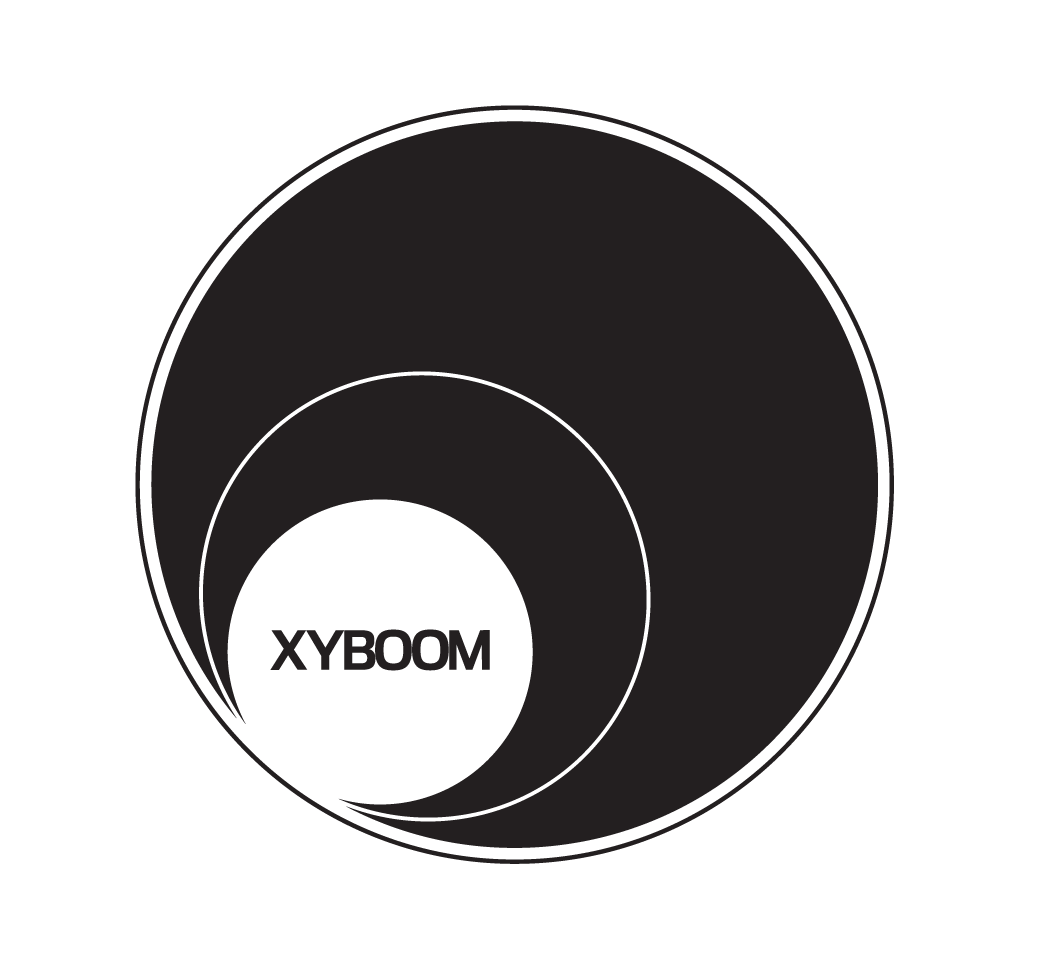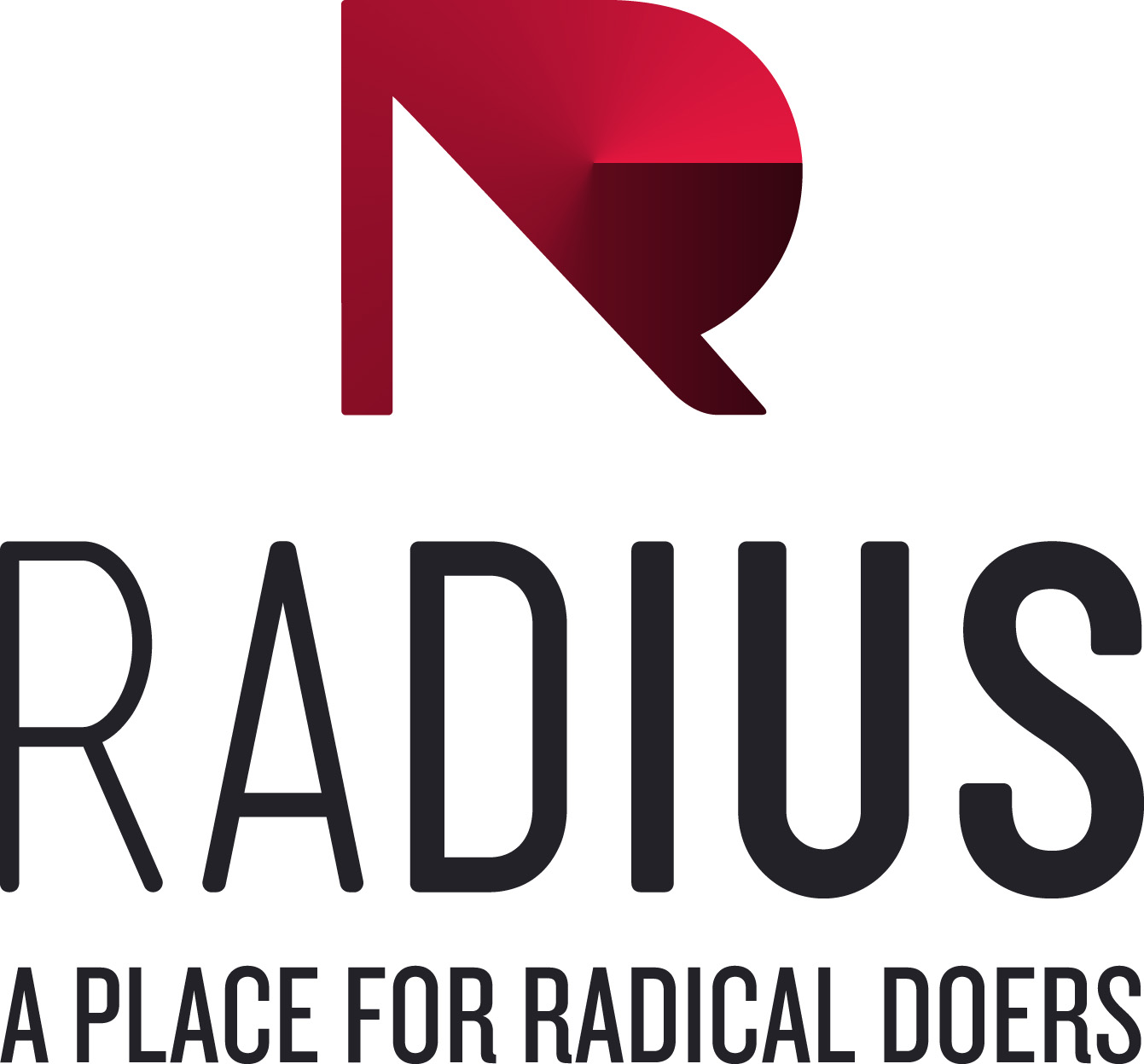 Important Things to Note:
Tickets are available on a first come, first serve basis. This Story Night has very limited capacity, so please purchase your ticket soon to avoid disappointment.

Tickets cost $10 per person. All proceeds go directly to event costs - XYBOOM is run purely on volunteer passion!

Accessibility! We would like to be as inclusive as possible. If the cost is an issue/barrier for you, we have a 'scholarship option' for a select number of tickets that are free of charge. There is a limited # of these tickets available and we do not require an application process, so please use your discretion and best judgement if selecting this option - ideally this is for those who are unemployed or have limited funds for non-living expenses. If there are no more tickets available and you would still like to attend but cannot pay the registration fee, please e-mail

info@xyboom.com

and we will see what we can do!
---
MORE INFO!
HOW | This workshop is based around a participatory process called Collective Story Harvest. At this XYBOOM Story Night, 3 storytellers will share a story from their own unconventional path to meaningful work. This process will allow you, the listener to surface insights, innovations and 'ah-ha' moments that exist beneath the surface of the story. Participants will then converge learnings and you'll discover ways to build your capacity and take next steps in your own journey. 
WHY | In the face of the changing workforce and employment precarity, an increasing number of people are turning to entrepreneurship in order to forge their own work paths. More and more, individuals of all ages are re-defining what 'work' looks and feels like on their own terms. But oftentimes, it can be daunting to figure out exactly how to pursue such a career path and make a positive social impact with the work you do – how to engage a team or supportive network to help make your vision a reality, how to build capacity or hone a craft, how to find the courage to take risks and move on from failure…This XYBOOM Story Night is designed to unpack some of these questions. We want to spotlight the diverse possibilities around creating meaningful work through unconventional paths and create space for attendees to authentically engage and learn, both with and from each other.
AT THIS WORKSHOP YOU WILL:
hear and learn from 3 storytellers who are changemakers and unconventional entrepreneurs in a participatory workshop format that will inspire your next steps in making your goals around meaningful work a reality.

have a truly engaging and participatory workshop experience that moves from active listening and learning, to facilitated activities and dialogue designed to spark ideas and action!

have the opportunity to network and meet other like-minded individuals who are also forging their own paths to meaningful work

...AND MORE!
When & Where

SFU RADIUS (BC Electric Railway Company Building)
425 Carrall St.
Mezzanine Level Meeting Room
Vancouver, BC V6B 6E3
Canada

Wednesday, 26 November 2014 from 5:30 PM to 9:00 PM (PST)
Add to my calendar
Organizer
XYBOOM began as a conference in 2012 after a group of Gen Y's realized that the challenges they were facing when it came to meaningful employment - or employement at all - were shared by a large percentage of their generation. Taking matter into their own hands, they decided that intergenerational collaboration is integral to addressing the challenges of the changing workforce and workplace. XYBOOM continues to address these issues through events, using innovative, participatory methods to facilitate dialogue and collaborative action in the workplace and beyond. 
RADIUS (RADical Ideas, Useful to Society) is a social innovation lab and venture incubator based at the Beedie School of Business, Simon Fraser University. In a world facing increasingly complex, interconnected social challenges, RADIUS is inspired by an emerging wave of entrepreneurs and innovators questioning the old rules and pushing forward new ideas about how our society might work. 
CatalystsX (Cx) is a community of people building a vibrant culture of personal and systems transformation towards a better impact, together. Cx invests in budding and established innovators and social entrepreneurs (mostly 18 to 35 years old), tracks and measures their impact, share our learning, and develops interventions to support their journeys and the social impact ecosystem.