Description



For Practitioners Who Have Completed Their EMDR Basic Training
---
Workshop description: Day #1
The Body's Melodies and Narratives: EMDR Therapy and Somatic Interventions with Children
This workshop provides advanced strategies borrowed from somatic therapies to enhance the work necessary to assist children with complex clinical presentations process traumatogenic material. Clinicians will be able to develop case conceptualization skills and treatment plans based on the Adaptive Information Processing model (AIP) while including more actively the information that is held somatically. Clinicians will learn how to efficiently work with the body during preparation phase will be presented. That is, how to identify, access and enhance positive bodily states and utilize the body as a resource with children. Playful strategies are introduced to mindfully direct children to listen to how the body tells its story and develop "somatic narratives."
Considering that children with complex trauma present with attachment injuries inflicted when lower brain areas of the child were still developing, their capacities for affect regulation can be compromised (Ogden & Gomez, 2012). The use of strategies that work directly with subcortical brain regions and the body can assist children in becoming more resourced to access the aftermath of chronic early trauma. Clinicians will learn how to give "voice" to the body so children can access playfully somatically held maladaptive information. Interweaves focused on modulating arousal and the use of somatic strategies such as: tracking, oscillation/pendulation, titration, directed mindfulness, tracking movement and the actions of the body and sensorimotor sequencing among others. Clinicians will learn how actively involve the body in a developmentally appropriate fashion during the installation phase and body scan.
Objectives
Participants will be able to cite aspects of the Adaptive Information Processing model in conjunction with the concept of dysregulated arousal, top-down/bottom-up processing, the polyvagal theory and the triune brain when doing EMDR therapy case conceptualization with children.
Participants will learn basic principles of somatic therapies that can be used and applied throughout the eight phases of EMDR therapy with children.
Children with complex clinical presentations and small windows of affect tolerance often times do not respond well to resources that are "too cognitive." This workshop will present numerous body oriented resources and strategies that work with the lower brain.
Participants will be able to use metaphors and analogies to explain the body's alarm system and the triune brain with children. How the body creates its own narrative and how to help children see the body as an intelligent unit that has its own story and its own way of telling it will be covered. Clinicians will learn strategies and specific ways to help children understand the connection between "the mind, the heart and the body" and how it is disrupted when trauma occurs.
Participants will be able to use EMDR games to help children develop sensory and somatic awareness and literacy. Participants will be able to use interweaves that directly work with somatic material while addressing the different plateaus of information processing.
Workshop description: Day # 2
EMDR Therapy and the Use of Inner-child, Ego States and IFS Strategies with Children


This workshop presents a pioneering and inventive model to use inner-child, ego state and Internal Family Systems strategies within a comprehensive EMDR treatment with children. Inner-child, ego state and IFS strategies and techniques can facilitate the exploration, accessing and processing of memories of trauma and adversity. In addition, they provide an excellent road to provide "reparative interweaves" and meet the unmet needs of children. These strategies are especially helpful when working with children with limited regulatory capacities, dissociative tendencies and deep attachment injuries (Gomez & Kraus, 2012).


Workshop description: Day # 3
I See You, I Feel You, I Know You: An EMDR Attachment-Focused Model to Heal the Parent-Child Bond
EMDR clinicians face the challenge of working with children with wounds and trauma occurring within the parent-child relationship. Caregivers that lack reflective function and mentalizing capacities (Fonagy & Target), or mindsight skills (Siegel) all of which are constructs related to the ability of the human mind to see itself and see the mind of the other, are unable to promote attachment security. These thwarted attachment experiences remain buried in the minds of the parent and the child in implicit nonconcious memory, making it difficult for the clinician to access such information. Children with insecure patterns of attachment have not been "seen, felt, understood and known" by their important caregivers and as a result have not developed a coherent sense of self. As a result, they have developed defenses and internal representations of the self as inadequate, shameful and unworthy and the other as unavailable and incapable of meeting deep needs for connection and safety. This presentation will discuss the latest research and literature on the link between attachment security and mentalizing capacities. In addition, this workshop presents an innovative multilevel EMDR attachment-focused model to work with parents with insecure states of mind and their children. This includes: Psychoeducation, emotion regulation, trauma processing and parent-child dyadic work. The use of the Adult Attachment Interview (AAI) will be discussed providing tips on how to use it clinically to identify the parent's buried tendencies towards dismissing, preoccupied or unresolved states of mind with regards to their own attachment experiences. Case conceptualization strategies and Preparation tools that include protocols to enhance the parent's capacity for differentiation and connection will be addressed. In addition, this workshop will briefly address the ethical considerations and challenges of working therapeutically with children and their parents.
Objectives:
Cite theories that directly address the key elements of attachment security in infants and children and the accompanying elements of the caregiving system.
Identify and apply key elements to develop case conceptualization skills and treatment plans using attachment theory and the AAI.
Use a multilevel EMDR attachment-focused model with parents with insecure states of mind and their children. This includes: Psychoeducation, emotion regulation, trauma processing and parent-child dyadic work.


---
About the Instructor: Ana M Gomez, MC, LPC is a psychotherapist in private practice, author of several books, chapters and articles, and a lecturer internationally known for her innovative work with children and adolescents. Ana Gomez is an EMDRIA approved consultant; an EMDRIA advanced training provider, an EMDR Institute, EMDR-IBA and EMDR-HAP trainer.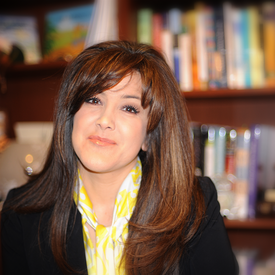 Ana has received training in Sensorimotor Psychotherapy, Play Therapy, Sandtray Therapy, Theraplay, Interpersonal Neurobiology (IPNB), and the use of the Adult Attachment Interview (AAI). She has worked with children, adolescents, adults and families affected by trauma and adversity for almost 20 years.
Ana has been a guest lecturer for plenary sessions and pre-conference workshops on several occasions. She has been a guest speaker at the 2008 (Phoenix) and 2014 (Denver) EMDRIA conferences and the pre-conference workshop and plenary presentation at the EMDRIBA conference in Costa Rica. She has been a keynote speaker at the 2008 EMDR Brazil conference, the Touchstone Annual Childhood Trauma Conference in 2013 and 2014 and the SWS Annual Conference in 2014.
---
EMDRIA CEC's available (6 credits per day).
Schedule: 9 am - 5 pm each day.
EARLY BIRD SPECIAL: $695 plus admin fee + GST (before September 1st, 2019).
REGULAR PRICE: $895 plus admin fee + GST (after September 1st, 2019).
Contact information: info@envisionservices.ca or 403-801-6710
---
*Refund policy
Refunds on purchased tickets are available only until October 1st, 2019 (no refund after this date). There is a $75 processing fee for all refunds. *Prices subject to change.
**Cancellations/Changes
The workshop may be cancelled or postponed 45 days prior to its date due to under-enrollment or other circumstances. Participants may want to wait before making travel arrangements. The workshop shall be cancelled or postponed if unforeseen circumstances, such as presenter illness and/or a natural disaster (a flood, earthquake, tsunami, wildfire, or other major incident) arises. Participants will be refunded 100%


---


Group rate for the hotel:
If you wish to book a room at the Holiday Inn & Suites Calgary South - Conference Ctr, here are some helpful tips:
-Booking online using the code ENV

Limited number of rooms under the group rate. The group rate will be available until September 1st, 2019. After this date the rates are no longer guaranteed.
Parking (1 Vehicle/Room) is included.
Register now, seats are limited!