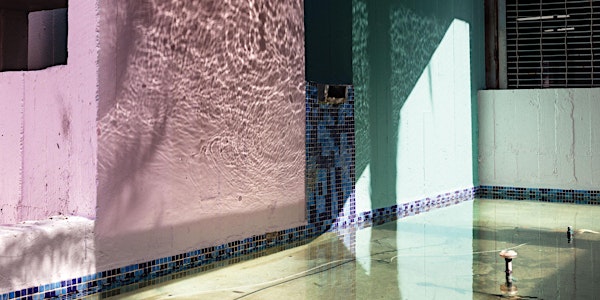 Anastasia Samoylova & Sara Knelman In Conversation
Russian-born, Miami-based artist Anastasia Samoylova and curator Sara Knelman will discuss the artist's series FloodZone.
When and where
Location
Gladstone House 1214 Queen Street West Toronto, ON M6J 1J6 Canada
About this event
One of this year's nominees for the prestigious Deutsche Börse Photography Foundation Prize, the series FloodZone exposes the rising water levels in and around Miami and other Florida shorelines. Samoylova's large-scale, sun-drenched images draw attention to subtle changes in the natural landscape and on human habits and desires that precipitate this unstoppable shift. Changes here are slow, the impending disaster all but inevitable. The artist's project approaches a place and a moment on the brink of transformation with tenderness, finding great beauty underscored by gentle menace.
FloodZone is presented on platform-level posters at Davisville Subway Station as a Core Outdoor Installation in the 2022 CONTACT Festival until May 30.
Anastasia Samoylova is a Russian-born American photographer who moves between observational photography, studio practice, and installation. Her work explores notions of environmentalism, consumerism, and the picturesque. She has recently held exhibitions at Kunst Haus Wien; Chrysler Museum of Art, HistoryMiami Museum; Kunsthalle Mannheim, and Museum of Fine Arts, Le Locle. In 2022 Samoylova was shortlisted for the Deutsche Börse Photography Foundation Prize and will present an extensive solo exhibition at the Eastman Museum (Rochester, NY). Her work is in the collections of the Perez Art Museum Miami, the Museum of Contemporary Photography Chicago, and the Wilhelm-Hack Museum, among others. Her two monographs, FloodZone and Floridas, were published by Steidl in 2019 and 2022.
Sara Knelman is a curator, educator, writer and Executive Director, Two Rivers Gallery. Sara's creative and research activities focus on the intersection among art histories and institutional histories, exploring the way that exhibition histories shape our understanding of art. Her writing is also grounded in intersectional feminism, and she is deeply committed to the values of community learning and engagement, and equity, diversity and inclusion, on which feminist ideology is built. Recent independent curatorial projects include She Unfolds, Thirza Schaap: Plastic Ocean and Daniel Alexander: When War Is Over. Sara has acted as a jury member for the Aimia-AGO Photography Prize, the Contact Gattuso Exhibition Prize and Flash Forward, and has written widely about contemporary art and photography for books and magazines, including 1000 Words, Aperture, Canadian Art, Frieze and Prefix Photo. She collects pictures of women reading and lives in Prince George, British Columbia.