The U of T SciComm Club presents Anatomy of a Data Visualization, a workshop led by MScBMC students on creating effective graphic designs.
About this event
Data visualization is a powerful tool for telling meaningful stories with data. It helps us see patterns and trends that we might not have noticed otherwise, or tell a story that's more compelling than numbers in a table.
This workshop builds your understanding of data visualization. You will learn how to select the best visualization type for your data and audience, and improve its effectiveness using graphic design. We will also introduce the tools necessary for communicating your data.
Anatomy of a Data Visualization
Date: Thursday, May 5, 2022
Time: 6:00 PM to 8:00 PM EST (1-hour of presentation followed by Q&A and networking session)
Location: Zoom (Meeting link and password will be emailed to registrants once at 9AM and then again at 5PM on May 5th)
Please ensure to upgrade to the latest version of Zoom. A recording of the presentations will be provided to registrants after the event.
Our Guest Speakers: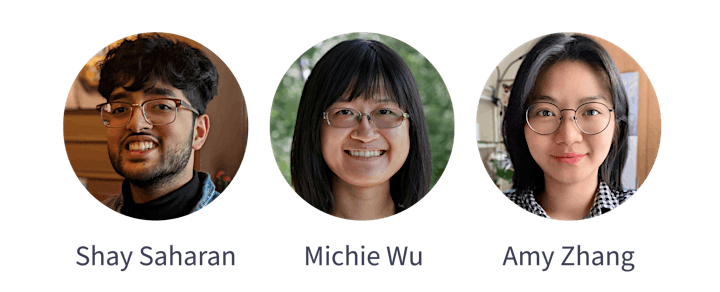 Shay Saharan
MScBMC Candidate at the University of Toronto
Shay is a scientific visualizer & designer based in Toronto, Ontario. He uses visual media and design to communicate complex scientific concepts and build interactive, educational and memorable experiences. Shay completed his undergraduate degree in Biomedical Engineering at the University of Guelph and is currently a 2nd-year MScBMC student specializing in interactive Media Design.
Website: ss-design.site
Michie Wu
MScBMC Candidate at the University of Toronto
Michie is a biomedical & scientific illustrator and designer currently enrolled in the MScBMC. She completed her undergraduate degree in Forensic Chemistry at the University of Toronto. She is interested in collaborating with professionals and furthering research in science education, forensic visualization, and information visualization.
Website: michiewu.com
Amy Zhang
MScBMC Candidate at the University of Toronto
Amy is a science communicator passionate about human-centered research and design. As a student in the MScBMC program, she designs media that create positive experiences within science, medicine, and health. Amy completed her undergraduate degree in Pharmacology and Physiology at the University of Toronto.
Website: amykzhang.com