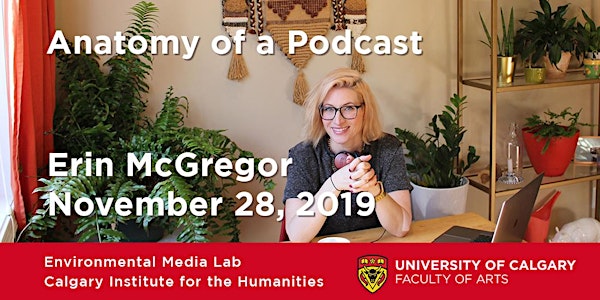 Anatomy of a Podcast featuring Erin McGregor
Join narrative storyteller and podcast producer Erin McGregor as she breaks down the anatomy of a podcast.
By The Calgary Institute for the Humanities
Date and time
Thu, Nov 28, 2019 6:30 PM - 8:00 PM MST
Location
Gallery Hall, Taylor Family Digital Library 410 University Ct NW Room 161 Calgary, AB T2N 1N4 Canada
About this event
Podcasts are for telling stories. As podcast listeners we, can't help but imagine ourselves in the shoes of the characters we learn about in the stories we hear because storytelling fuels empathy. But it takes more than questions to draw a character out from behind the mic. You need a surprising set of skills to tell stories for the ear. Learn how to harness the power of emotions to tell impactful stories.
Erin McGregor is a Philadelphia based podcast producer. She is the host and creator of Queer Public, a podcast that asks critical questions about queer identity, politics and culture. She is also a feature interview producer on a long running queer indie music podcast Homoground. Erin holds a Master's Degree in Social Justice & Equity Studies from Brock University where she studied broadcast news interviews on CBC's The Hour (which later became George Stroumboulopoulos Tonight). Her current season of Queer Public seeks to elevate the voices of independent queer artists in Philadelphia and meets artists in real-life queer life.
Free and open to the public. Registration required. All are welcome to attend.
6:30 p.m. Thu. Nov. 28
Gallery Hall, Taylor Family Digital Library
University of Calgary
Presented by the Environmental Media Lab at the University of Calgary (www.environmentalmedialab.com) and the Calgary Institute for the Humanities.
About the organizer
For over forty years, the Calgary Institute for the Humanities has worked to foster humanities research of the highest order, to encourage interdisciplinary conversations between scholars, and to communicate the results of Humanities research to the greater community. At the CIH, we take a broader approach to the humanities, to include all forms of study that illuminate what it means to be human.