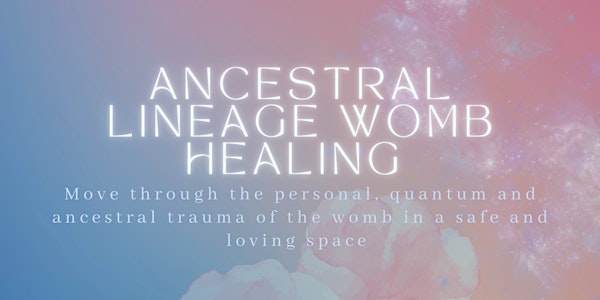 Ancestral Womb Healing
Using different healing modalities in a sacred space we'll dive into the trauma, grief and expansion held in the divine womb space
When and where
Location
Vivid Psychology Inc. 3450 19 Street Southwest Calgary, AB T2T 6N9 Canada
Refund Policy
Contact the organizer to request a refund.
Eventbrite's fee is nonrefundable.
About this event
In this sacred container we'll be exploring the womb space - our unique individual ancestral lineages, the women who came before us and passed on their wisdom, yet too the pain and grievance they weren't able to move through. As their descendants we hold onto that which they experienced - and so today we are opening up the holy space to tiptoe into the unseen and unfelt realms. Maybe even dive into dark waters that hold golden keys of healing.
Using the healing modalities of Aromatherapy, Shamanic Journeying, Hypnotherapy, Somatic Work, Sound bath, A sharing circle, & an ending Tea Ceremony we will come together as women and dive into the bliss of our cosmic creational wombs.
FURTHER DETAILS:
We'll be sharing an informative opening ceremony discussing the energetics of the Womb - expanding our hearts and minds into remembrance of the power of our wombs. This space has been desecrated of its divinity, the portal which all humans enter. Men too have this space in their bodies. But today we're focusing on the healing of the feminine body. Her temple, which raises all other humans alive today. Her temple that nourishes all those around her. The temple built in a replication of our divine cosmicality.
Receiving this - we'll then gently dive into the release of all grief, death, repression, separation, numbing and distortion of this sacred womb space through hypnotherapy. We will be opening through the smog of this space and pulling our pure organic light back in. Filling our temple with its original essence.
If these words create confusion, please feel rather than mentally analyze.
Participants should bring a source of hydration! Water bottles, tea - although some will be provided during our time together, as well hot water bottles (if they have), yoga mats, comfy socks, and loose clothing.
It is a privelage for Grace and Jenn to hold space in such a way for all those who feel called. We honour you.
We hope you answer if you feel the call!