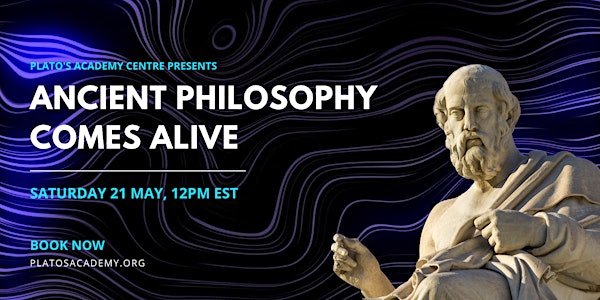 Ancient Philosophy Comes Alive!
The Plato's Academy Centre presents... Ancient philosophy comes alive! Virtual conference on Greek philosophy and the good life.
Refund Policy
Contact the organiser to request a refund.
Eventbrite's fee is nonrefundable.
About this event
Ancient Philosophy Comes Alive
Virtual Conference on Greek Philosophy and the Good Life
If you're interested in how Greek philosophy can help us live better lives today, this is the online event for you!
When you register you'll have the opportunity to make a donation, of an amount of your choosing, all proceeds going toward the Plato's Academy Centre nonprofit.* Not available or in a different time zone? Don't worry as recordings will be available afterwards to everyone booking tickets in advance.
What's it all about?
We bring together a special program of world-class philosophers and renowned authors for an exclusive online event that you absolutely won't want to miss.
Each speaker will share with you their knowledge and captivating insights into the most famous ancient philosophers, including effective and practical advice and strategies to help understand and manage the challenges of our uncertain and complex daily lives.
"Plato's Value Today", Robin Waterfield, translator of Plato and Xenophon, author of Marcus Aurelius: Meditations, The Annotated Edition

"How to be an Aristotelian", Dr. John Sellars, Royal Holloway, University of London; author of Hellenistic Philosophy and The Pocket Epicurean

"Plato on Facebook", Prof. Chloe Balla, University of Crete; author of Platonic Persuasion: From Rhetoric to the Art of Politics

"Aristotle and the Stoics on Flourishing", Prof. Nancy Sherman, Georgetown University; author of Stoic Wisdom: Ancient Lessons for Modern Resilience

"Can Philosophers be Rulers?", Prof. Voula Tsouna, University of California, Santa Barbara; author of Plato's Charmides: An Interpretative Commentary

"Socrates as Psychotherapist", Donald Robertson, author of How to Think Like a Roman Emperor: The Stoic Philosophy of Marcus Aurelius

Keynote: "Why Read Plato's Republic?", Prof. Angie Hobbs, University of Sheffield; author of Plato's Republic: A Ladybird Expert Book
NB: Details may be subject to change without prior notification.
Who will be hosting?

Our hosts will be Donald Robertson, the president of the Plato's Academy Centre, and Anya Leonard, the founder and director of the Classical Wisdom website.
About Plato's Academy Centre
The Plato's Academy Centre is a new nonprofit, based in Greece, run by a multidisciplinary team of volunteers from around the world. Our mission is to make ancient Greek philosophy more accessible to a wider international audience and to celebrate the legacy of Plato's Academy in Athens. Everyone is welcome to join us.
FAQ
Will recordings be available? Yes, everyone who orders a ticket in advance will automatically have access after the event to recordings of all presentations. So don't worry if you're unavailable at these times or located in another time zone.
Will it be too academic for me? While many of our speakers are notable academics, the sessions are aimed at a nonacademic audience.
How much does it cost? We're making it free to register, so it's available to the widest possible audience, but you'll have the opportunity to make a donation, amount of your choosing. As a rough guide, tickets for a physical conference like this might normally cost €150. Your generosity helps support our nonprofit's work and allows us to reach more people through future events. *If you do not wish to donate anything whatsoever, you may contact us directly to apply for a free ticket or simply enter the promo code NODONATION when booking.
Why this date? 21st May is the approximate date of the Platoneia, on which Plato's birthday is traditionally celebrated.
Where can I get updates? Follow our Facebook Event page and our Twitter account for updates on this event.
Thanks
We're grateful to our board of advisors, Orange Grove incubator, Classical Wisdom, and the Aurelius Foundation, for their support in bringing you this event. Special thanks to Phil Yanov, Gabriel Fleming, and Kasey Robertson for their help organizing the event.