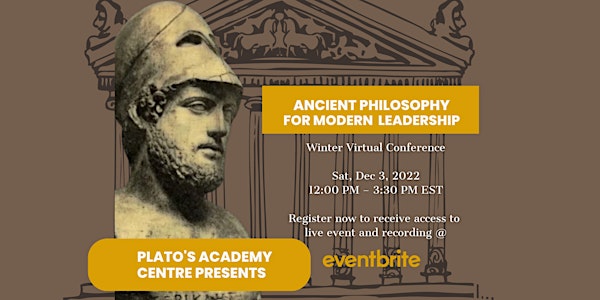 Ancient Philosophy for Modern Leadership
The Plato's Academy Centre presents... Ancient Philosophy for Modern Leadership virtual conference.
Refund Policy
Contact the organizer to request a refund.
Eventbrite's fee is nonrefundable.
About this event
Special Offer: John Murray Press have generously agreed to give away three print copies of 365 Ways to be More Stoic, the brand new book by Tim LeBon, edited by Kasey Pierce. Simply register today for a chance to win. Three winners will be picked at random following the event.
Ancient Philosophy for Modern Leadership
Stories of Character, Confidence and Success
Virtual conference from Plato's Academy Centre
What does it mean to be a great leader? How can leadership help others to succeed? And how should we define success in the modern world? If you're interested in these questions, this is the online event for you! Some leadership ideas have withstood the test of time so well that we're going to share them with you.
When you register you'll have the option to donate an amount of your choosing. Although you can choose to donate nothing, and attend completely free, a donation of 30 euros or above would be greatly appreciated, as it helps the Plato's Academy Centre nonprofit to continue organizing events like this in the future. * Not available or in a different time zone? Don't worry as recordings will be provided afterwards if you book your tickets now.
What's it all about?
We bring together a special program of world-class thinkers and renowned authors for an exclusive online event that you absolutely won't want to miss.
Each speaker will share with you their knowledge and captivating insights into philosophy and leadership, including real life examples, practical advice, and effective strategies.
Speakers
Keynote: Stoic Wisdom and Courageous Defiance, Prof. Nancy Sherman, Georgetown University, author of Stoic Wisdom: Ancient Lessons for Modern Resilience, and Stoic Warriors: The Ancient Philosophy Behind the Military Mind
Socrates on Leadership and Self-Discipline, Donald Robertson, president of Plato's Academy Centre, author of How to Think Like a Roman Emperor and Verissimus: The Stoic Philosophy of Marcus Aurelius
Leading a Tech Company Team with Stoicism, Ivan Biava, Senior Customer Director at Omie, founder of Estoicismo Prático
Disrupting me Stoically, Eugenia Manolidou, Head of Studies at Elliniki Agogi, School of Ancient Greek
The Myth of Leaders: How Storytelling and Leadership go Hand in Hand, Anya Leonard, founder of Classical Wisdom Weekly
The Pygmalion Effect: Its Value and Philosophy, Kasey Pierce, editor of Verissimus and 365 Ways to be More Stoic
True Success for Leaders, Tom Morris, author of The Everyday Patriot and If Aristotle Ran General Motors
Soul in the Game, Vitaliy Katsenelson, author of Soul in the Game
Successful Investing with Ancient Wisdom, Alexander Green, Chief Investment Strategist of The Oxford Club, author of The Secret of Shelter Island and The Gone Fishin' Portfolio
Ubuntu Stoicism and Modern Leadership, Tiišetšo Maloma, author of Introducing Ubuntu Stoicism, and CEO of Bula Buka Publishers
Leading Through Your Calendar: Valuing Time, Andrew McConnell, founder and CEO of rented.com, and author of Get Out of My Head: Creating Modern Clarity with Stoic Wisdom
Leading with Integrity and Empathy, Asst.Prof. Barbara Kondilis, president of Greek non-profit Art, Graffiti in the City and Founder, Toastmasters in Greece
Lessons from Employed Philosophers, Gregory Galant, CEO of Muck Rack
Ancient Wisdom for Modern Civic Leaders, Diane Kalen-Sukra, author of Save Your City: How Toxic Culture Kills Community & What to Do About It, and founder of the Kalen Academy civic leadership academy
Ancient Philosophy and Modern Leadership, Prof. Chuck Chakrapani, Distinguished Visiting Professor, Toronto Metropolitan University; President, Leger Analytics; Editor THE STOIC magazine; author of Unshakable Freedom, How to be a Stoic When You Don't Know How
How to Lead Like a Citizen of the World, Joshua Bertolotti, USAF Retired, Founder at Perennial Leader Project, Host of the In Search of Wisdom Podcast
A Leadership Story from Ancient Greece, Artemios Miropoulos, author of The Nameless King:15 Stories of Leadership from Ancient Greece, leadership learning and development expert, trainer, and coach
Stoicism and Virtuous Leadership, Prof. Sean Lyons, Department of Management, University of Guelph
Lead Like a Spartan, Mick Mulroy, former Deputy Assistant Secretary of Defense (DASD) for the Middle East. Senior Fellow for National Security and Defense Policy with the Middle East Institute, an Analyst for ABC News, and the Lobo Institute's co-founder
Keynote: Why Stoicism is Needed More than Ever in the Boardroom, Justin Stead, Entrepreneur & Investor, CEO Radley London, Founder of Aurelius Foundation
NB: Details may be subject to change without prior notification.
Who will be hosting?
Our hosts will be Donald Robertson, the president of the Plato's Academy Centre, and Anya Leonard, the founder and director of the Classical Wisdom website.
About Plato's Academy Centre
The Plato's Academy Centre is a new nonprofit, based in Greece, run by a multidisciplinary team of volunteers from around the world. Our mission is to make ancient Greek philosophy more accessible to a wider international audience and to celebrate the legacy of Plato's Academy in Athens. Everyone is welcome to join us.
FAQ
Will recordings be available? Yes, everyone who orders a ticket in advance will automatically have access after the event to recordings of all presentations. So don't worry if you're unavailable at these times or located in another time zone.
Will it be too academic for me? While many of our speakers are notable academics, the sessions are aimed at a nonacademic audience.
How much does it cost? We're making it free to register, so it's available to the widest possible audience, but you'll have the opportunity to make a donation, amount of your choosing. As a rough guide, tickets for a physical conference like this might normally cost €150. Your generosity helps support our nonprofit's work and allows us to reach more people through future events. *If you do not wish to donate anything whatsoever, you may contact us directly to apply for a free ticket or simply enter the promo code NODONATION when booking.
Where can I get updates? Follow our Facebook Event page and our Twitter account for updates on this event.
Thanks
We're grateful to our board of advisors, Orange Grove incubator, Classical Wisdom, and the Aurelius Foundation, for their support in bringing you this event. Special thanks to Phil Yanov, Gabriel Fleming, and Kasey Robertson for their help organizing the event.