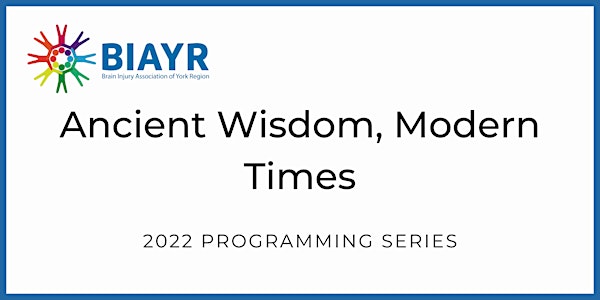 Ancient Wisdom, Modern Times - 2022 BIAYR Programming Series
Promoting mental health and flexibility through meditation, breathing, yogic storytelling and philosophy
About this event
Ancient Wisdom, Modern Times
Hosted by Shehla Khan, C-IAYT
Yoga Therapist (certified with the International Association of Yoga Therapists)
Each weekly session will incorporate body awareness practice of body scans and specific chants from Yogic texts to facilitate ease of full breathing and to focus the mind followed by a specific story from South Asian tradition.
These stories incorporate symbolism and are timeless tools to navigate into one's own mind and allow one to interpret them for themselves. For example, yoga draws tremendously from nature, the sun, moon, earth, water, fire, and air. They are all considered to be gods, and they are ever-present within us. These ancient stories and symbols allow us to honour the interconnectedness and divinity of life – powerful contemplation behind one posture called the circle of life/Twist.
The session will also include a take-home image, which will be displayed on the screen, an artwork, graphic or a poem to deepen understanding and something to nibble on during the week. Visual imagery in yoga is often used as a meditation tool to focus and engage the mind. For example, the picture of a white lotus or a flower in full bloom has been used as a symbol of an open heart and our natural mental state. This state of contentment, clarity and calm is called sattva – the concept of sattva is incorporated in meditation using a hand gesture with a flower or lake imagery.
Each session will conclude with an open space for sharing, questions, and comments.
These sessions will take place on Mondays from 10 am to 11 am starting May 2 to June 27, 2022. Excluding Victoria Day.
--
Yoga therapy, as described by ancient text, is the application of yogic tools according to the needs of the individual (yoga sutra 3.6), The techniques and tools are numerous and are not limited to physical body movements synchronized with breaths. Storytelling has been a critical part of yoga tradition for stretching, flexing, and relaxing one's imagination which according to yoga is one of the many ways to connect with ourselves. The goal of yoga practice.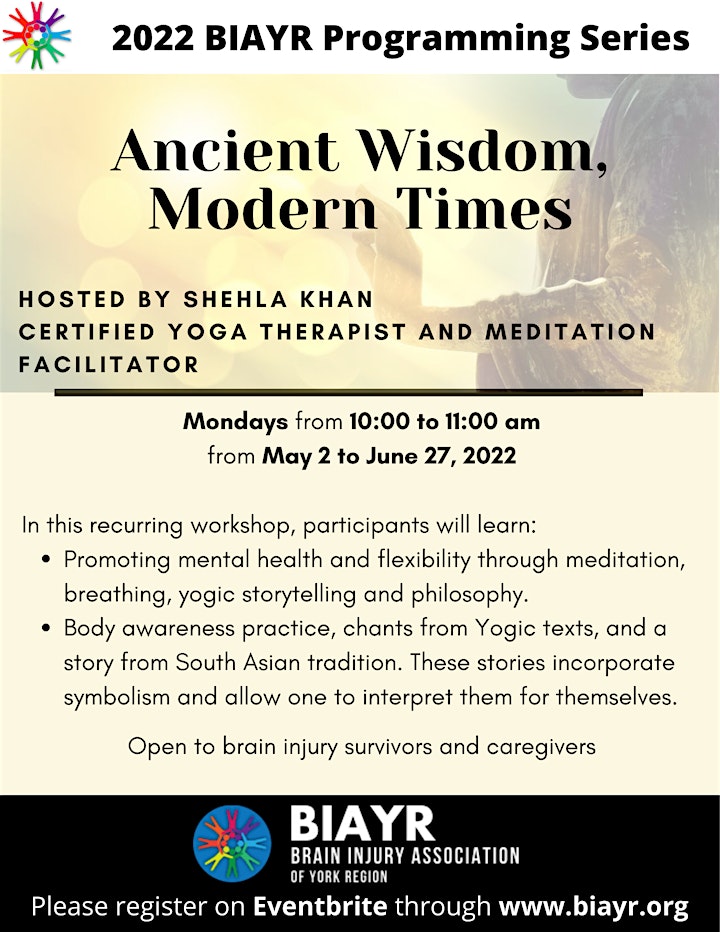 More about Shehla Khan:
Shehla is an Ayurvedic Practitioner & Certified Yoga Therapist. She is passionate about using the power of yoga to help support individuals on their journey to cultivate a life full of healing & love.
"I believe in the simplicity and the discipline of this great practice of Yoga. In the tradition of Krishnamacharya and T.K.V. Desikachar, I draw on different styles of Yoga while incorporating other techniques that promote healing and balance. From Sivananda to Classical Hatha, Vinyasa to Yin and Restorative, I incorporate Yoga's knowledge of itself into my own practice and offer it to others through my teaching.
As a Certified Yoga Therapist, I work diligently to bring the unadulterated teachings of Yoga to the people around me. I have been teaching Yoga and offering Yoga Therapy in Toronto for over 15 years. I have taught public, corporate and private Yoga classes, workshops, and outreach programs. As an instructor of the Classical Yoga Teacher Certificate program at George Brown College and as a senior faculty for Yoga Sanctuary's teacher training programs, I share my knowledge of Yoga Philosophy, Ayurveda, Tantra and Yoga Therapies.
I have come to believe that Yoga is truly a lifelong journey—full of healing and love. To the best of my abilities I teach according to Ayurvedic Principles, paying due respect to the environment around us—the seasons, weather and time of day—and, of course, to the people in front of me." - Shehla Khan