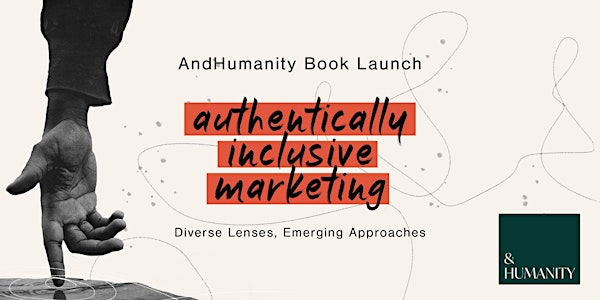 AndHumanity's Authentically Inclusive Marketing Book Launch - Authors Panel
Join us for the launch of AndHumanity's first book publication: Authentically Inclusive Marketing: Diverse Lenses, Emerging Approaches.
About this event
On Thursday, December 15 at 9am PST, join the AndHumanity team and other justice, equity, diversity, and inclusion (JEDI) and marketing experts as we celebrate the launch of our brand new book: Authentically Inclusive Marketing: Diverse Lenses, Emerging Approaches.
Join the conversation with Tammy Tsang, Adeline Huynh, Sabre Pictou Lee, Sonia Thompson, and Majid Khoury as they share their stories about the experiences – lived and professional and all the ways these intersect – that inform their work in the inclusive marketing space. Whether you're new to marketing or a seasoned marketing practitioner, you will leave the conversation with illuminating insights and approaches that can guide your business practices as consumers continue to demand diverse, socially responsible and authentically inclusive marketing.
Event: AndHumanity Book Launch - Authentically Inclusive Marketing: Diverse Lenses, Emerging Approaches
Date: Thursday, December 15, 2022
Time: 9am - 10:30am PST / 12pm - 1:30pm ET
Where: Streamed live on Zoom; register for the link
Cost: Free
Speakers: Matthew Tsang (host), Tammy Tsang, Adeline Huynh, Sabre Pictou Lee, Sonia Thompson, Majid Khoury
Published by AndHumanity, Authentically Inclusive Marketing: Diverse Lenses, Emerging Approaches demystifies the process of Inclusive Marketing for marketers of all career stages, experience levels, skillsets, and specializations. Approachable, accessible and easy to understand, the book brings together the personal stories and professional expertise of various JEDI experts to guide you on your Inclusive Marketing journey.
Have you ever wondered what Inclusive Marketing really is? Why is it so important to today's consumers? What do power dynamics, cultural safety and respect mean and look like in the marketing sphere? And, of course, where do you even begin to apply Justice, Equity, Diversity and Inclusion (JEDI) practices to your own business practices authentically and mindfully? This book gives you the answers to all of these questions – and more.
Replete with a wealth of case studies, reports and trends, Authentically Inclusive Marketing: Diverse Lenses, Emerging Approaches combines concrete statistics and research with the intersectional approaches of the authors – all of whom are leaders and experts in marketing or JEDI. Together, the book sets the foundation for any modern marketer desiring to learn about the practical application of Inclusive Marketing.

Adeline Huynh (she/her) is the CEO of The Commons, a diversity + inclusion strategy firm. With almost 15 years of leadership experience in the field of DEI, she has worked in large public sector organisations as well as with private sector businesses to bring about corporate culture shifts.
Sana Khaliq (she/her), the book's second editor, is a researcher, daughter, sibling, lifelong student, and advocate. A first generation Pakistani settler on the traditional territories of the Neutral, Anishinaabeg and Haudenosaunee peoples, Sana has a Masters in Sociology and Legal Studies from the University of Waterloo. With her multi-industry and interdisciplinary experience, she strives to connect social justice, research, and community building work with marketing. Sana is on various youth advisory committees and a board member for It Gets Better Canada. In her spare time, she's often found trying to finish her many creative side projects while enjoying a cup of chai.
Majid Khoury (he/him) has been working in research for over 30 years, making him one of the most experienced specialists in the country. He works with brands operating globally and on national multi-language campaigns geared towards diverse groups. Majid has seen what works well, and what does not, when it comes to DEI practices in marketing.
Sydney McNeill (they/them), an editor of the book, is a strategist, a communicator, an inclusion educator and advocate, and a proud parent. They are currently completing their Masters in Interdisciplinary Studies at Royal Roads University, merging the fields of social justice, leadership and communications. As a white (Scottish/Norwegian) settler, they are incredibly grateful to enjoy life on Treaty 6 territory in Amiskwaciwâskahikan (Edmonton). They are queer and multiply neurodivergent; and these are lenses they bring proudly to all of their work. In their spare time, they write poems, read everything, admire the bees, enjoy nature, collect rocks, and try very hard not to kill their plants.
Sabre Pictou Lee (she/her) is Mi'kmaq from Eel River Bar First Nation in New Brunswick, and the co-founder and CEO of Archipel Research & Consulting.  She is a much sought-after Indigenous liaison and researcher – having worked in Indigenous-related programme development, facilitation, policy development and analysis. 
With this expertise, Sabre seeks to build bridges between Indigenous and non-Indigenous organisations. Sabre holds a Juris Doctor of Law with a specialization in Indigenous and Aboriginal Law from Dalhousie University, an M.A. in Indigenous and Canadian Studies from Carleton University and a B.F.A. in Art History and Indigenous Studies from Concordia University.
Sonia Thompson (she/her) is an inclusive marketing strategist and consultant, as well as the CEO of Thompson Media Group, where she helps companies deliver inclusive and remarkable customer experiences that win over consumers. She writes weekly columns for Forbes and Inc. magazine where she covers how belonging, inclusive marketing, and remarkable customer experiences fuel growth and customer loyalty.
Tammy Tsang (she/her) is the co-founder of AndHumanity, Inclusive Marketing Agency. As a maverick business owner certified in leadership and inclusion, she has a lifelong passion for DEI. Over the years, her work has been recognised internationally and featured in Marketing Magazine, as well as at the Global American Marketing Association Conference.
Tammy has been featured on CTV News, CBC TV and radio, CKNW, Bill Goode Show, Business News Daily, PR News and other media. She was the director of diversity and inclusion at the BC chapter of the American Marketing Association; and a board member for several organisations including the Strathcona Business Improvement Association, as well as Vancity's Community Stakeholders Advisory for Women Entrepreneurs.
Tammy is also a founding member of the Global Inclusive Marketing Alliance, a conglomerate of inclusive marketing agencies that specialise in the DEI space around the world.

AndHumanity is a full-service Inclusive Marketing agency.
We're really unlike any other agency in the world. We believe everyone deserves to belong, and we help this happen by leading the brands we work with to create a legacy of belonging through inclusive customer experiences. Led by Tammy Tsang (she/her), a Certified Inclusion Expert with over 10 years of agency experience, the diverse team at AndHumanity takes a groundbreaking, interdisciplinary approach to effectively merging marketing and inclusion.
It's not just what we do that's different, but how we do it. Lived experience and authentic inclusion inform every aspect of our work. Inclusion is at our core, and every single process at AndHumanity is designed to be inclusive. Everyone working on our projects, from in-house staff to an extensive Equity-Deserving Network of Allies, has lived experience with various dimensions of diversity and a strong inclusion mindset.
Because inclusion is a journey and this space is ever evolving, our team comes together for regular, ongoing learning around how to be more inclusive in our work and our industry. Further, we don't participate in the competitive nature of the marketing world and are quick to collaborate, eagerly partnering and sharing resources with those who want to further Inclusive Marketing. And finally, our research and data insight processes actively challenge biases and prioritize the needs and voices of equity-deserving people and groups. Authentically inclusive marketing is as much about the how as the what.