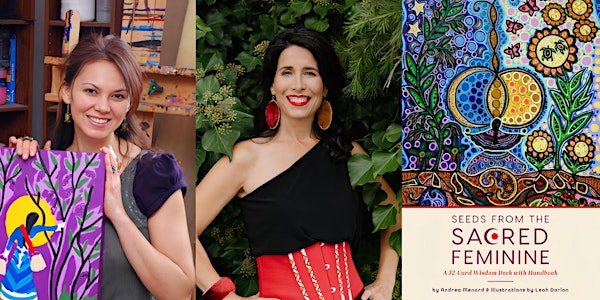 Andrea Menard & Leah Dorion ~ Seeds from the Sacred Feminine
Andrea Menard & Leah Marie Dorion, award-winning Métis writer and artist, launch Seeds from the Sacred feminine Wisdom Cards.
Date and time
Sunday, November 19 · 11am - 12pm PST
About this event
Join Andrea Menard and Leah Marie Dorion, award-winning Métis writer and artist, at Banyen Books for an Online Event on Seeds from the Sacred feminine Wisdom Cards!
Seeds from the Sacred Feminine Wisdom Cards are a 52-card Indigenous wisdom deck and gentle divination system that invites the reader to play in the realm of the Sacred Feminine and plant a seed in their own quiet, mysterious depths.
Seeds from the Sacred Feminine draws upon ancient wisdom and reflects the teachings given to Métis author, Andrea Menard. The cards offer 52 beautiful images of original artwork by Métis painter Leah Marie Dorion. Whether you are wanting a more balanced life, wanting to connect with Indigenous teachings, or just wanting to stop the cycle of exhaustion, if you are called to this deck of cards, they are meant for you, no matter who you are or where you come from.
Andrea Menard is a Métis woman whose Michif ancestry originates from St. Laurent, Manitoba, Canada. Menard is an accomplished Métis singer, storyteller, speaker, and the founder of the Sacred Feminine Learning Lodge. As seen in USA Today, Andrea is an influencer in Feminine leadership and was named one of Women Executive Network's (WXN) 2020 Canada's Most Powerful Women: Top 100 Award Winner. One of the stars of the new CTV/Crave series, Sullivan's Crossing, Andrea is a five-time Gemini-nominated actress, a 15-time music award winner, and was named ACTRA National's Woman of the Year for 2021. She has released 4 award-winning albums, debuted two symphony shows, written and starred in two critically acclaimed television programs, and her TEDx Talk called "Silent No More" has reached over 128,000 views.
Leah Marie Dorion is an interdisciplinary Métis artist raised in Prince Albert, Saskatchewan. Dorion holds a Bachelor of Education, Bachelor of Arts, and Master of Arts degree. A teacher, painter, host, filmmaker and published writer, Dorion views her Metis heritage as providing her with a unique bridge for knowledge between all people. Dorion's original paintings honour the spiritual strength of Indigenous women and have been brought together as a collection for the first time in this deck of wisdom cards. Leah Dorion has sold over 150 original paintings, with several original artworks purchased by the Government of Saskatchewan Public Art Collection. Dorion has had gallery showings of her art work in such esteemed galleries as Allan Sapp Gallery, Wanuskewin Heritage Park, Batoche National Historic Site, and the Dunlop Art Gallery in Regina, Saskatchewan. She has numerous commissioned artworks and many of her paintings are held in private collections.
"What a feast! This collection of inspirational cards invoking the wisdom of the feminine is created entirely by Indigenous women, permeated by the fierce and tender heart of the Grandmothers. The artwork is glorious, the teachings are both luminous and grounded, the combination truly transformational. I will be gifting these cards, with the accompanying handbook, again and again."
— Mirabai Starr
"Seeds from the Sacred Feminine is a delicate, gentle, and kind teaching that will help you get in touch with our sacred grandmothers, our guides for being in tune with nature and mother earth. Using this wisdom will draw you into the natural laws of Earth by helping you to return to emotional and mental harmony based on balancing yourself with the four sacred directions."
— Barbara Hand Clow
"Nothing is more important than being guided by the Sacred Feminine, the tremendous force of love that is trying to birth a new humanity out of the smoking ashes of the old. Andrea Menard knows this in her bones and has created out of her own profound journey, a set of absolutely precise and beautiful cards that will be of great help to all those who know that loving the Mother and listening to her truth are the key to human survival. I shall use these cards myself and recommend them with great joy."
— Andrew Harvey
"The art on Andrea's cards is amazing and inspirational, but more importantly, these cards can be really helpful for people who are healing from emotional unwellness or substance use. In my clinical work with people who are suffering, I need aids to offer them; reminders of the slow medicine, reminders to use the wisdom of the ancestors, because when they do, they feel better. These cards are a useful resource for that purpose."
— Lewis Mehl-Madrona
About the organizer
Banyen Books is Canada's leading bookstore in spirituality and healing for over 50 years. Banyen hosts book launches and workshops with the world's most influential authors, wisdom teachers, wellness experts, psychologists, philosophers, artists, activists, and cultural visionaries.