About this event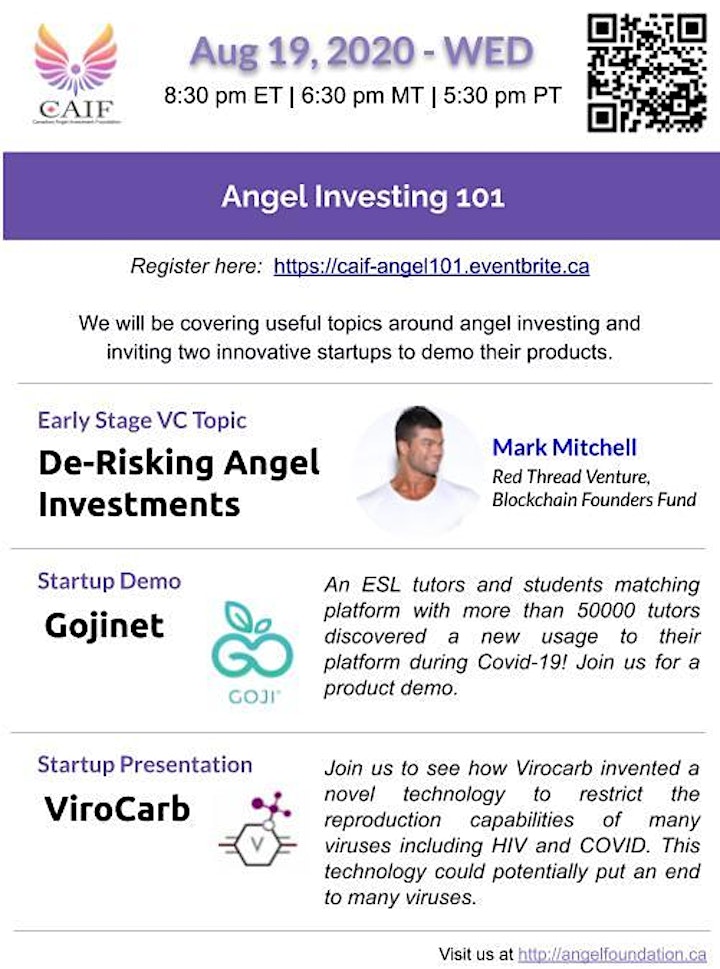 Angel investing is about investing in a new or small business venture, providing capital for start-up or expansion. Is angel investing right for you? Do you need to be an accredited investor? What opportunities are available? What to invest in? What type are there? We are here to answer those questions for you and more.
This webinar is the first in an ongoing series for professionals interested in or new to angel investing. Through this webinar, you will learn different topics about angel investing and building a great angel portfolio.
Angel Investing 101 is just the beginning of your educational journey as an angel investor. Want to learn more about building an angel portfolio and developing the key skills needed to make great investments?
Join as Investor and get quality deal flows: https://angelfoundation.ca/register-as-an-investor/
Topic: Angel Investing 101
Date: Aug 19 (Wed)
Time: 8:30 pm ET / 6:30 pm MDT CST / 5:30 pm PDT
Duration: 1 hour
Format: Online
This webinar is suitable for angels new or experienced. We will cover useful topics for new angel investors and also invite startups to demo.
Agenda
De-risking Angel Investments (20 mins)
Startup Demo #1 (15 mins + Q&A)
Startup Demo #2 (15 mins + Q&A)