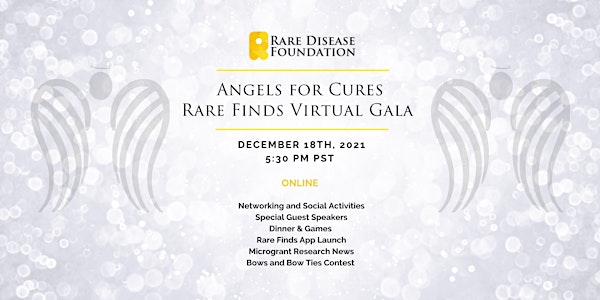 Angels for Cures Rare Finds Virtual Gala
We are calling all Angels to celebrate our successes with us and hear about future directions for the Rare Disease Foundation!
Refund Policy
Contact the organizer to request a refund.
Eventbrite's fee is nonrefundable.
About this event
Be an Angel this holiday season! An Angel for cures that is. We are calling all Angels to enjoy an action-packed evening to celebrate and support the initiatives and programs of Rare Disease Foundation.
Get ready for a fun, laughter-filled, engaging evening MC'd by Marco Pasqua, award-winning entrepreneur and inspirational speaker. The evening will feature special presentations, connections with other community members, games, and a chance to win some very special prizes. Wear your best Bow or Bowtie to be entered in our Bows and Bowties contest! A complimentary food delivery coupon will be provided to enhance your gala experience.
Our generous sponsors would like to cover the cost of the tickets for our community. For a Free Ticket, please register using the Free Ticket option. Alternatively, if you would like to donate towards RDF when you register for your ticket, please feel free to do so using the Angel Donation Ticket. Any donations that you give will help support the work of the Rare Disease Foundation, which includes the Microgrant Research Program, Mental Health & Wellness Program and Emergency Food & Medical Supplies Program. Be an Angel and get your tickets now to save your spot! We also ask that you share our event with as many people as possible. This will be a truly RARE event!
We have a few more opportunities for event sponsors left. If you would like to see our sponsorship package, please email info@rarediseasefoundation.org and one of our team members will get back to you right away.
************************************************************************************************
ABOUT RARE DISEASE FOUNDATION:
Founded in 2008, the Rare Disease Foundation is a non-profit organization on a mission to find cures and treatments through its innovative patient-centric approach to research. To date, the Foundation has funded 464 individual research projects through over $2 million distributed in seed funding, resulting in 14 potential cures delivered in as little as 18 months.
Rare Disease Foundation is proud to have supported over 2,000 rare disease community members through our network of support groups across Canada and in person events (pre-COVID). Since the launch of our Mental Health & Wellness Program in June 2020, as a direct response to the COVID-19 pandemic, we are honored to have continued assisting community members by delivering over 200 individual counseling sessions with mental health professionals. By connecting and serving patients, caregivers, health care providers, researchers, and supporters, we strive to improve the lives of those living with a rare disease, ultimately providing hope and helping to build a coalition of support.
Learn more at www.rarediseasefoundation.org.
CANCELLATION POLICY:
For all intents and purposes, Rare Disease Foundation Canada and Rare Disease Foundation USA intend to fulfill their obligations to ticket holders by hosting this virtual gala event. However, Rare Disease Foundation reserves the right to cancel these fundraising events, for reasons related to the COVID-19 pandemic, and any OTHER business matters including, but not limited to supply chain issues and low attendance. In the unfortunate event that cancellation occurs, Rare Disease Foundation Canada and Rare Disease Foundation USA will not offer guests, donors or sponsors full or partial refunds, but will provide them with the option of repurposing their registration, donation and sponsorship funds towards another fundraising event in the future.