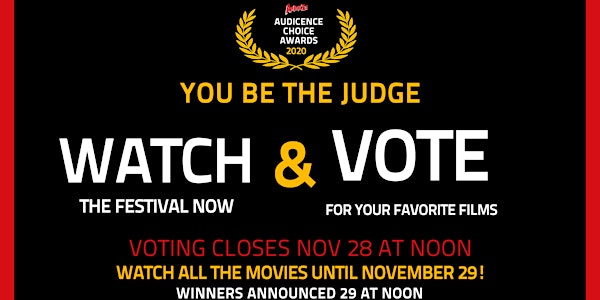 Animaze 2020 - Montreal International Animation Film Festival - Online
Animaze 2020 - 8th Annual Montreal International Animation Film Festival - 1st Virtual Edition
About this event
ANIMAZE FESTIVAL 2020
ANIMAZE is proud to present the 8th annual Montreal International Animation Film Festival virtual online edition NOW EXTENDED until November 29th. With nearly 200 films screenings on Facebook LIVE and ZOOM industry panels, "Meet the Filmmakers" and networking opportunities. 2020 present a distinguished jury and the new Audience Choice Award.
YOUR DONATION KEEPS ART FLOWING
BEFORE YOUR CHECKOUT LEAVE US A TIP!
In these extraordinary and unprecedented times, ANIMAZE grows strong giving a powerful united voice to creators, true to its core values of inclusiveness with a strong collaborative spirit for cutting edge animation from first time to Oscar time directors,
ANIMAZE 2020 is ready!
DONATE - TAKE ACTION - INVEST IN ART NOW!
DONATION LINK AT CHECKOUT
-------------------------------------
JOIN THE GROUP - FACEBOOK
In this year's event, we will broadcast the Films on Facebook, after you register please join the Animaze 2020 Facebook Group to see the movies and the panels.
https://www.facebook.com/groups/animazefestival2020
----------------------------------------
ANIMAZE PROVIDING FREE CONTENT WORLDWIDE
BECOME AN ANIMAZE SUPPORTER!
100% of your donation supports ANIMAZE, a registered Canadian non-profit organization working with volunteers. Donations facilitate creative unbiased programming ensuring that great animation remains accessible for all.
Films from 37 countries are participating and well represented from First Nations, LGBT, established and emerging content creators from all communities. ANIMAZE facilitates interdisciplinary creative partnerships across industries and sectors.
An international selection of animation features, shorts and experimental films, VR and 360 film, and Best of Fests! Bringing you the best animation from around the world!
Student films, tributes and retrospectives of animation greats!
Special guest speakers!