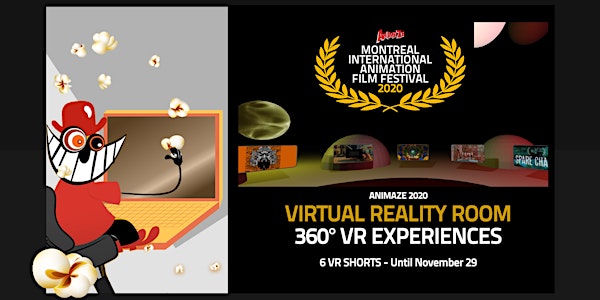 ANIMAZE VR in collaboration with VRTO FIVARs
ANIMAZE 2020 VR Powered by Specialized.Events
About this event
ANIMAZE VR Powered By Spatialized.Events
ANIMAZE is proud to present the 8th annual Montreal International Animation Film Festival virtual online edition NOW EXTENDED until November 29th.
To showcase this year's Virtual Reality/360° experiences, short films and experiences - ANIMAZE has partnered with Spatialized.Events who develop innovative three-dimensional online venues for immersive festivals (including FIVARS) to showcase surround video and audio. These venues can be operated by dragging the video around with your mouse or touchpad, or by means of virtually any VR headset or goggles.
Explore ANIMAZE's immersive animation catalog in a spatialized venue.
Spatialized.EventsTheatre Features:
ANIMAZE Festival's 360° experience catalogue
VOIP voice chat and text messaging support
The 360° content is optimized for fast playback of 4K resolution surround content with spatial audio - and unlike most online surround video - no buffering time!
No proprietary downloads or software required
Experience ANIMAZE in 4k resolution via your Desktop Web Browser (no special equipment required!) in the custom-built 360° web theatre, or optionally, using any VR headset, or "Google Cardboards" or 360° Viewers.
ANIMAZE - 360 VR MOVIES:
NUO
Nuo, originated from the ancient ritual of expelling ghosts and plagues, is a witchcraft culture of primitive religion, which has developed into a kind of culture and art.
SWING
On the playground, a frustrated girl's jealousy clouds her inner thoughts and takes her deeper into hell, where a simple solution eludes her.
THE BIRD I MADE
A boy's natural observation journal, The Bird I Made.
LOST
The image of the city depicted as a point cloud, rendered by scanning the city with a 3D scanner.
SPARE CHANGE
Donnie spends a week on the streets of Los Angeles in an attempt to better relate to and understand the city's homeless communities, capturing the stories of those afflicted with chronic homelessness.
ANONYMOUS
'Anonymous' explores loneliness and mortality, specifically people living and dying alone.
Please take note from this list of browsers (and their version numbers) that support WebGL, the technology that powers an event like this .
Also to determine whether your graphics card/computer are new enough to support WebGL, consider whether they could handle a 3D game from the past 8 years.
FAQs
What Do I Need to Watch the Movies?
Just a desktop/laptop, some mobile phones and tablets support WebGL too!
Safari is not a supported browser.
We recommend Chrome, Microsoft Edge, Firefox, Brave browser. In that order.
Supported phones include Samsung Galaxy s10 or newer, Google Pixel 3 or newer
If I have problems loading an experience or need help troubleshooting, where can I contact you?
Please contact support for assistance: support (at) fivars.net