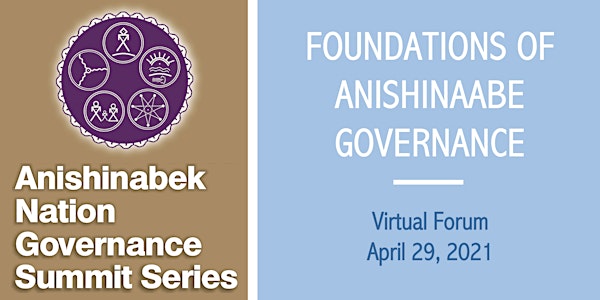 Anishinabek Nation Governance Summit, Foundations of Anishinaabe Governance
This Summit Series is an opportunity to learn about Anishinaabe Governance. This forum will focus on traditional governance and language.
Date and time
Thu, Apr 29, 2021 12:00 PM - 5:30 PM PDT
About this event
ABOUT THE GOVERNANCE SUMMIT SERIES
The Anishinabek Nation is hosting a series of online forums/virtual town halls that will provide opportunities to learn about Anishinaabe Governance and what our own governance system and laws can mean for future generations of Anishinabek.
The Governance Summit Series:
April 29 – Foundations of Anishinaabe Governance
May 27 – Relationships: Structures, Roles & Responsibilities
June 24 – E-Dbendaagzijig Naaknigewin: Citizenship & Belonging
July 22 – Leadership, Decision-Making & Accountability
FORUM 1: FOUNDATIONS OF ANISHINAABE GOVERNANCE, April 29, 2021
Objectives:
Enhancing learning of Anishinaabe principles, governance and laws.
Using our language and ceremony within Anishinaabe governance.
Demonstrating the benefits of our ways of life to our citizens and First Nations.
"Journey to Language Acquisition" - Featuring a panel of Anishinaabemowin speakers from Nipissing First Nation.
YOUR HOSTS
Grand Council Chief Glen Hare (Gwiingos)
Commissioner on Anishinaabemowin Barbara Nolan
Bob Goulais (Mzhaakwat), Emcee
WHO SHOULD PARTICIPATE?
* Registration is reserved, exclusively to:
Citizens of the 39 Anishinabek Nation-affiliated First Nations.
Citizens of those First Nations who have successfully ratified and are implementing Anishinaabe Governance.
Chiefs and Councillors.
Space is limited. So please register today!
DOOR PRIZE DRAW
Register by April 27, 2020 to be eligible for draws for an Anishinaabe-designed blanket from Mini Tipi and maple syrup from Tom's Sugar Shack. You must be present to win.
FOR MORE INFORMATION
Questions or for further information, contact Cathy Bellefeuille at cathybellefeuille@gmail.com
For further information on Anishinaabe Governance visit: https://www.governancevote.ca/
* Those registering will be asked to validate their First Nation citizenship and attest to being a citizen of one of the 39 member First Nations of the Anishinabek Nation or a guest from Treaty 2 territory.
About the organizer
The Anishinabek Nation incorporated the Union of Ontario Indians (UOI) as its secretariat in 1949. The UOI is a political advocate for 39 member First Nations across Ontario. The Union of Ontario Indians is the oldest political organization in Ontario and can trace its roots back to the Confederacy of Three Fires, which existed long before European contact.