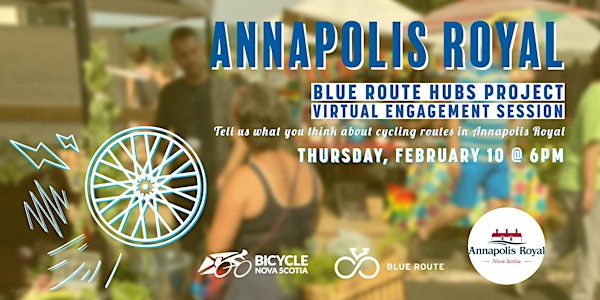 Annapolis Royal Blue Route Hubs Engagement Session
Do you live in or near Annapolis Royal? We want your feedback about a draft active transportation network map and priority cycling routes.
About this event
Join Bicycle Nova Scotia's Active Transportation Planner and the Town of Annapolis Royal for a virtual public engagement session hosted online via zoom. We will meet at 6pm on Thursday, February 10th, 2022.
We will share information about the Blue Route Hubs Project and how we came up with the draft active transportation network plan. We will be asking for your feedback about whether or not you think the routes on the map make sense, and which route you think should be prioritized for implementation first. We will talk about some of the trade-offs for route 1A (ie: more space for cycling might mean less space for parking) and ask for your feedback about what your priorities for streets are as a resident of or visitor to Annapolis Royal.
There will be time for you to ask questions about the project during the session. We really value your time and thank you for your feedback. Anyone can attend the event, and we encourage you to pre-register so we know how many people to expect to participate.
Participants will be able to turn on captions during the meeting. You can access the virtual meeting at the following link. We will also send you and email with the link when you register.
Join Zoom Meeting
https://us06web.zoom.us/j/87170587867?pwd=ZmJTV0cvbkEyMk12SWtYbVNpb3Awdz09
Learn more about the Blue Route Hubs Project: https://blueroute.ca/annapolis-royal-blue-route-hubs-project/