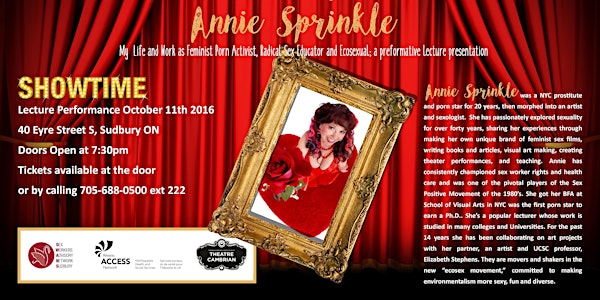 Annie Sprinkle, My Life and Work as Feminist Porn Activist, Radical Sex Ed...
Event Information
Location
Theater Cambrian
40 Eyre Street
Sudbury, Ontario P3C 4A5
Canada
Description
Reseau ACCESS Network presents
a preformative lecture presentation by
Annie Sprinkle; My Life and Work as Feminist Porn Activist, Radical Sex Educator and Ecosexual
In conjunction with the 3rd Sex Worker Conference : Building Inclusive Communities with Sex Workers , The evening performance is a community wide invitation to help bring awareness to the realities of sex work and their lack of access to health and social services within the Sudbury area.
Annie Sprinkle was a NYC prostitute and porn star for 20 years, then morphed into an artist and sexologist. She has passionately explored sexuality for over forty years, sharing her experiences through making her own unique brand of feminist sex films, writing books and articles, visual art making, creating theater performances, and teaching. Annie has consistently championed sex worker rights and health care and was one of the pivotal players of the Sex Positive Movement of the 1980's. She got her BFA at School of Visual Arts in NYC was the first porn star to earn a Ph.D.. She's a popular lecturer whose work is studied in many colleges and Universities. For the past 14 years she has been collaborating on art projects with her partner, an artist and UCSC professor, Elizabeth Stephens. They are movers and shakers in the new "ecosex movement," committed to making environmentalism more sexy, fun and diverse.
Ticket also available at the door or by calling 705-688-0500 ext 222
Date and time
Location
Theater Cambrian
40 Eyre Street
Sudbury, Ontario P3C 4A5
Canada