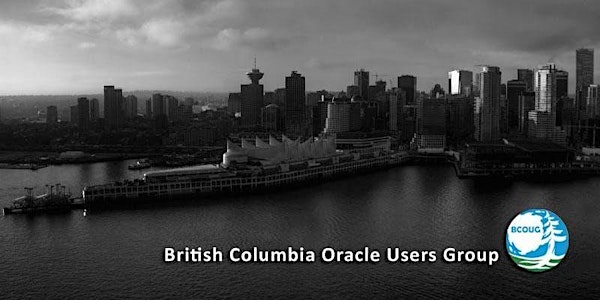 Annual General Meeting 2019
When and where
Location
BC Liquor Distribution Branch 3383 Gilmore Way Burnaby, BC V5G 4S1 Canada
Description
Victoria Oracle Users Group Society
NOTICE OF ANNUAL GENERAL MEETING
Date:
Tuesday, December 10, 6:00 - 8:00pm
Location:
BC Liquor Distribution Branch
3383 Gilmore Way
Burnaby, BC V5G 4S1
Dear Members,
You are cordially invited to attend the society's Annual General Meeting (AGM) for 2019. Registration is required for security purposes.
The Victoria Oracle Users Group Society is the IOUG sponsored incorporated entity that oversees the operation of the BC Oracle User Group. This is the required legal body that is able to accept donations, pay expenses, and conduct business. The AGM is a legal requirement, during which financial statements are presented and the board of directors are elected.
Agenda
AGM call to order
Review and approval of last year's (2018) AGM minutes
Report of the activities in 2019
Review and approval of the society's financial report for the current year, as of Oct 31st, 2019
Nomination and election of the board of directors
Activities and events for 2020
Any other business
Please note that this is a business meeting only. There are no presentations, but a light dinner and refreshments will be provided.