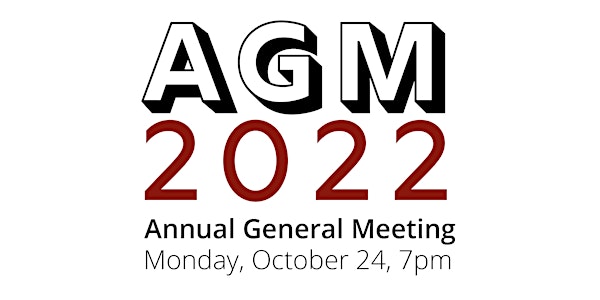 Annual General Meeting 2022
Add your voice to the conversation at the Alternator's 2022 Annual General Meeting.
About this event
The Alternator Centre for Contemporary Art invites our members to our Annual General Meeting (AGM) on Monday, October 24, 2022 at 7:00 pm.
The AGM is a great time to be introduced to the association's Board of Directors and staff, gain an idea of the association's present financial state, and learn about current and upcoming projects and events at the Alternator. As a member of the Alternator, you have a vote on all matters of business at the AGM including the election of the Board of Directors. Everyone is welcome, but in order to vote you must be a member in good standing (memberships must be paid before the meeting).
The AGM will last approximately 45 minutes and will take place remotely over ZOOM. To participate, advance registration is required on Eventbrite. Each registered participant will be provided with a ZOOM link on the day of the event. All members of the Alternator are encouraged to participate. There is no charge. If you are interested in joining the Board of Directors, please contact Lorna McParland, Artistic & Administrative Director (lorna@alternatorcentre.com), prior to the AGM to discuss details of the role
To purchase or renew your alternator membership, please visit us at the gallery or see https://www.alternatorcentre.com/getinvolved
We look forward to seeing you there!