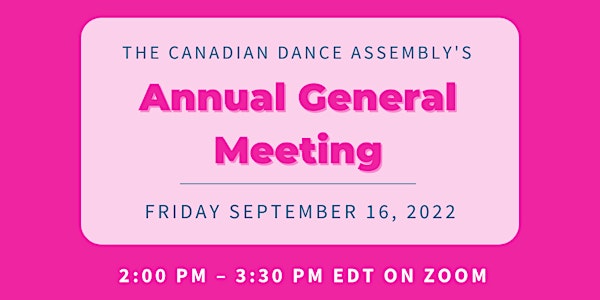 Annual General Meeting// AGA de l'Assemblée canadienne de la danse
AGM of the Canadian Dance Assembly AGA de l'Assemblée canadienne de la danse
About this event
You're invited to our Annual General Meeting (AGM)!
Join us as we present the 2021-2022 year in review. Hear from your board representatives, share your questions and thoughts, and stay for our open forum as well as an update on our Resilience Fund.
AGM business will include:
1. Welcome
2. Adoption of Agenda
3. Adoption of the 2021 AGM Minutes
4. Staff Report
5. President's Report
6. Financial Statements 2021 Presentation
7. Next year auditor appointment
8. Nomination Report
9. Standing Council Elections
10. Other Business
11. Open Forum
**registration closes 10 minutes before event **
Who can attend?
Everyone! Anyone interested is welcome to attend. Non-members and interested community members are welcome guests.
Current members: you can vote at the AGM. Current members include individuals and organizations who have renewed for the 2022-2023 year, and 2021-2022 members who are currently due. (We apply a 6-month grace period on renewing, July 1 - Dec 30.) Current members are welcome to vote for motions to be passed. (Join/Renew Here!)
If a current member is unable to attend the meeting, they have the right to assign their vote to another member in good standing. Please contact info@cda-acd.ca for a proxy form for this purpose.
Standing Councils up for election at this meeting are:
- Ballet Companies
- Service and Support Organizations
Access Notes:
- ASL Interpretation provided
- French simultaneous translation
- Live auto-captions (English) available
- Care-giver friendly space
- Members, non-members, anyone is welcome
After the AGM, the CDA team will present updates on the Resilience Fund.
Call for National Council members – CDA is welcoming nominations for Member at Large positions on the National Council. Members must be in good standing as individuals or represent an organizational member. All self nominations must be supported by another member. Voting will take place at the AGM. For further information or to express interest please contact info@cda-acd.ca
------------------------------------------------------
Vous êtes invité.e.s à notre assemblée générale annuelle (AGA) !
Joignez-vous à nous, nous vous présenterons le bilan de l'année 2021-2022 et une mise à jour sur le Fonds de résilience.
Ordre du jour :
1. Mot de bienvenue
2. Adoption de l'ordre du jour
3. Adoption du procès-verbal de l'AGA 2021
4. Rapport de l'équipe
5. Rapport de la présidente
6. Présentation des états financiers 2021
7. Nomination de l'auditeur pour l'année 2021-2022
8. Gouvernance et mises en candidature
9. Varia
10. Période de questions
* L'inscription se termine 10 minutes avant l'événement.
Qui peut participer ?
Tout le monde ! Toute personne intéressée est la bienvenue. Les non-membres et les membres intéressés de la communauté sont des invités bienvenus.
Membres actuels : vous pouvez voter à l'AGA. Les membres actuels comprennent les personnes et les organisations qui ont renouvelé leur adhésion pour l'année 2022-2023, ainsi que les membres de 2021-2022 dont la cotisation est échue. (Nous appliquons un délai de grâce de six mois pour le renouvellement, du 1er juillet au 30 decembre.) Les membres actuels sont invités à voter pour les motions à adopter. (adhérer/renouveler ici >>)
Si une personne membre ne peut pas assister à la réunion, elle peut céder son vote à un.e autre membre en règle. Veuillez contacter info@cda-acd.ca pour obtenir un formulaire de procuration à cette fin. Veuillez noter que les personnes non-membres sont invitées à assister à la réunion en tant que personnes observatrices.
Les conseils permanents à élire lors de cette réunion sont les suivants :
- Compagnies de ballet
- Organisations de services et de soutien
Notes d'accès :
- Interprétation ASL fournie
- Traduction simultanée en français
- Sous-titrage automatique en direct (anglais) disponible
- Espace convivial pour les aidants
- Membres, non-membres, tout le monde est le bienvenu
Fonds de résilience
Suite à l'AGA, l'équipe de l'ACD vous présentera un bilan mi-parcours du Fonds de résilience.