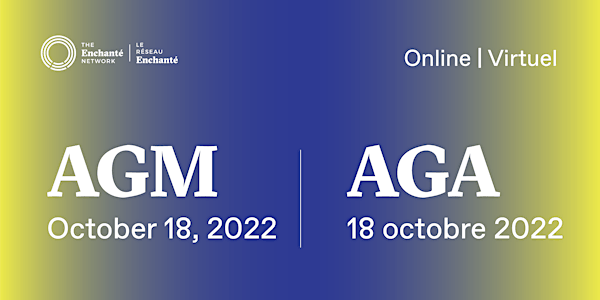 Annual General Meeting - Enchanté Network
The Enchanté Network invites all of its members to it's online AGM! Le réseau Enchanté invite tous ses membres à son AGA virtuelle !
About this event
We are thrilled to invite members to the Enchanté Network's Annual General Meeting (AGM) on October 18, 2022, from 12pm to 2 pm EST. All necessary material for this meeting including the Agenda, our Annual Report, our Audited Financial Statements, and the Board Slate for the next year will be sent to you no less than 1 week before the AGM.
What members need to do to join the AGM:
Pay your membership fees
Members must be in good standing in order to vote during the AGM. As such, it is very important for your organization to ensure that you have paid your membership fees for fiscal year 2021-22 and 2022-23.
Pay your membership fee here.
We are looking forward to seeing you then!
***
Nous sommes heureux.euses d'inviter les membres du réseau Enchanté à notre Assemblé générale annuelle (AGA), le 18 octobre 2022 de 12h à 14h (HAE). Tout le matériel nécessaire pour cette assemblée, incluant l'ordre du jour, le rapport annuel, les audits financiers, le rapport de nominations du conseil d'administration pour la prochaine année, vous sera envoyé une semaine avec l'AGA.
Ce que les membres doivent faire pour se joindre à l'AGA :
Payer vos frais d'adhésion
Les membres doivent avoir payé leur frais d'adhésion pour pouvoir voter lors de l'AGA. Il est donc primordial pour votre organisation de payer les frais d'adhésion pour les années fiscales 2021-2022 et 2022-2023.
Payez vos frais d'adhésion ici.
Au plaisir de vous y voir !