Learn all about the important work that the CEC has accomplished in the past year! CEC members will be able to vote on important decisions
About this event
At our Annual General Meeting (AGM), staff and board members of the CEC will review the important work that the organization accomplished in 2020. We will recap educational program achievements, new projects and programs, and discuss some of the ways that the CEC adapted its offerings to serve the public throughout the pandemic.
Want to join our Board of Directors? Find out how here!
CEC members in good standing will have the opportunity to vote on decisions that affect the future of the organization, including helping to elect new members to our Board of Directors. Members in good standing who attend the AGM will also be entered to win door prizes which can be picked up at the Compost Education Centre in following days.
Anyone can attend the CEC's AGM. For members and non-members, attending our AGM is a great way to support the CEC and learn more about the work that we do here!
*Registered participants will receive a link to the online Zoom meeting the day of the AGM.*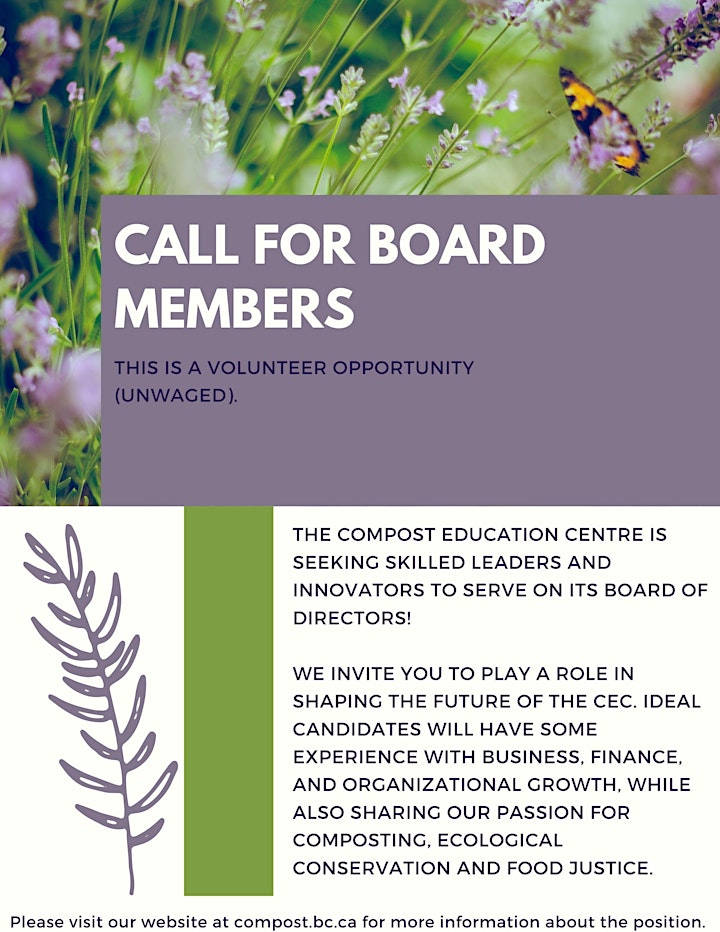 Organizer of Annual General Meeting
The Compost Education Centre, situated on unceded Coast Salish territories, is a non-profit organization with charitable status. The CEC's mission is to encourage composting, local food production, and conservation, through education to residents living within the CRD. Created as a community resource, the CEC's intent is to lower barriers to building skills that support soil stewardship and ecological sustainability. Two of the ways the CEC meets this goal are through free and affordable workshop series for adults, and a diverse, interactive, science-based educational program for students and their teachers. The CEC is mandated to teach people of all ages how to create a biologically active, organic garden amendment, as well as why composting and soil conservation are crucial practices for mitigating climate change.