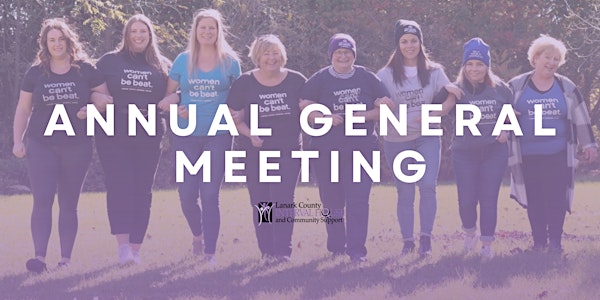 Annual General Meeting
Please join us for our annual update to our community on the work we are doing and the business aspects of our agency.
Refund Policy
Contact the organizer to request a refund.
Eventbrite's fee is nonrefundable.
About this event
Dear Community Member:
Lanark County Interval House is holding its Annual General Meeting on September 26, 2022, at 6 pm via Zoom from Carleton Place. We hope that you will be able to join us.
This past year has continued to be both challenging as well as filled with opportunity. Our team has continued to navigate the unfortunate realities and unpredictability of COVID-19 while continuing to do a stellar job as have the women and children.
We have embraced pivot and flexibility consistently. We have engaged in a housing task force and advocacy program with the county and have completed a renovation which offered six more units to our client sin a Beyond Second Stage housing project. Through grants and generous local donations, we were able to create the Perseverance Pantry. The Pantry provides women and children with food and hygiene items as they recover from the pandemic and navigate the rising costs of food and services. Some of the items stocked by the Pantry are donated by Independent Grocer in Carleton Place, Starbucks in Carleton Place and a local egg farmer. We have been able to make the Pantry more sustainable by growing our own vegetables as well. Our Victim Advocate Program continues to be a successful partnership with the Lanark County OPP. While COVID-19 has exacerbated violent incidents globally and right here in our County and continues to pose challenges to our agency, we continue to remain dedicated to our mission to support women and children who are impacted by violence.
By becoming a member of Lanark County Interval House and Community Support, you add your voice and support to the needs of your local community. You become engaged and a part of the movement to end all forms of violence against women and girls. Become a member until August 26, 2022.
Please consider joining us for our annual update to our community on the work we are doing and the business aspects of our agency.
We look forward to your participation in our Annual Meeting.
If you have any questions, or require further information, please do not hesitate to contact the agency directly or via our website www.lcih.org.
Sincerely,
Erin Lee, Executive Director and Megan Ryder Burbidge and Linsey Sherman-Zekulin, Co-Chairs of the Board of Directors