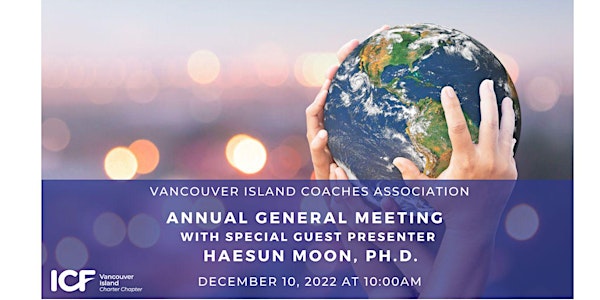 Annual General Meeting with Special Guest Speaker - Dr. Haesun Moon
ICF Vancouver Island Coaches Association Annual General Meeting with Special Guest Speaker Saturday, December 10, 2022 10:00 AM - 12:00 PM
About this event
Vancouver Island Coaches Association
Annual General Meeting Agenda
1. Welcome, Land Acknowledgement and Check-In
2. Call to order and confirm quorum
3. Motion: Approve the Minutes of AGM December, 2021
4. Report from the President
5. Report from the Treasurer
6. Motion: Approval the Financial Statements from Year Ending December 31, 2021
7. Motion: Approved a credit card application for the Chapter
8. Election of the 2023 Board of Directors
9. Thank the outgoing Directors
10. Incomring President's Address
11. Planning for 2023
12. Motion: Adjourn the AGM
Special Guest Speaker:
Dr. Haesun Moon will be our Special Guest Speaker at our upcoming Annual General Meeting on Saturday, December 10, 2022 from 10:00 AM - 12:00 PM. This will be a Virtual AGM and Seminar hosted on Zoom.
Topic: The Efficacy of Coaching
How would you answer the following three questions relating to your work whether you are a therapist, coach, education and perhaps as a parent?
1. What do you do?
2. How does that (what you do) do?
3. How do you know that's useful?
These three simple inquiries are the foundations of communication science as we study what people do, how that works, and how we measure its usefulness. What are some tools and measures that you have currently?