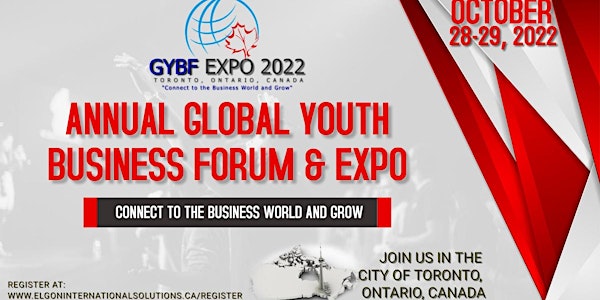 Annual Global Youth Business Forum & Expo (GYBF EXPO) 2022, Toronto, Canada
The Forum aims at encouraging and inspiring youth and small business owners/startups globally to be Future entrepreneurs.
When and where
Location
DCI BANQUET HALL 2256 SHEPPARD AVENUE WEST Toronto, ON M9M 1L7 Canada
Refund Policy
Refunds up to 30 days before event
About this event
Welcome to Canada's Greatest Business Forum
ELGON INTERNATIONAL SOLUTIONS INC. brings to you Annual Global Youth Business Forum & Expo 2022, Toronto, Canada. The Annual Global Youth Business Forum & Expo 2022 a networking event for Youth Entrepreneurs, Business Owners, Youth Start-ups, and those who want to grow their businesses. Small Business startups, Small Business Owners and mainly those that have been affected by COVID-19 Pandemic.
With more than 300 delegates, workshops and sessions, it's where business gets personal with top of the line speakers, business experts, cutting edge solutions, new trends, world class networking, incredible ideas and opportunities, in-depth education and off-the-chart experiences.
The main objective of the Business forum & Expo is to share with the youth business opportunities and enterprise development services.
Theme: "Connect to the Business World and Grow"
Businesses can survive during and after COVID-19 pandemic if they re imagine their financial, business, employee, and customer strategies. But moving beyond the pandemic into a post-COVID world relies on the business's ability to continue to adapt and consider its customers' needs in new ways.
Things like marketing, customer relationships, business operations, and employee roles may look different now; but your attention to them can make all the difference to your business when it's time to step on the gas pedal once again.
WHAT TO EXPECT AT THE BUSINESS FORUM
We will hear from Annual GLOBAL Youth Entrepreneurs and Business Owners/Entrepreneurs who are transforming the Business World. The event will bring together young entrepreneurs, private companies, civil society organizations, development partners, representatives from the Federal Government of Canada and participants from the Provincial Governments of Canada and other Countries that will be invited.
NOTE: As a delegate for the GYBF EXPO 2022, due to the current COVID-19 pandemic you must be fully vaccinated to travel to Canada with the approved Health Canada Vaccine and proof of vaccination certificates. Use ArriveCAN app to provide mandatory travel information before and after your entry into Canada.
JOIN US at our GYBF EXPO as we discuss solutions to strengthen small businesses during and after the COVID-19 Pandemic. REGISTER NOW!
NOTE: INVITATION LETTERS ARE STILL BEING ISSUED.
For more information about the event and Visa applications, visit our website: https://elgoninternationalsolutions.ca/about-gybf-2022
REFUND POLICY:
*All prices are in Canadian dollars. Refund / Cancellation Policy: Where the registrant is unable to attend, and is not in a position to transfer his/her place to a colleague or to another event, then the following refund arrangements apply: (a) Cancellations more than 60 days before the event - 50% of the registration fees will be refunded. (b) Cancellations less than 60 days but more than 45 days before the event- 25% of the registration fees will be refunded. **( a) and (b) banking fee applies. (c) Cancellations less than 45 days before the event- not eligible for a refund.