Celebrating our Leaders and Volunteers
About this event
We are honoured to invite you to the 22nd Annual Hetman Awards and Gala hosted by the Ukrainian Canadian Congress – Alberta Provincial Council (UCC-APC). Developed to recognize members of the Ukrainian community in Alberta who dedicate their time and expertise for the benefit of us all, this is a social evening for organizations and individuals to say "thank you / diakuju" for their volunteer and leadership commitment.
The Ukrainian Canadian Congress-Alberta Provincial Council is proud to be celebrating over 40 years as a non-profit society! Organized in 1974, it officially represents over 350,000 Albertans of Ukrainian descent and 300 organizations in Alberta. UCC-APC has developed a multilevel representation through its provincial and local branches that have become instrumental in addressing issues of concern to the whole community including specific needs of the new generation of Ukrainian Canadians at the appropriate government level.
This year's Hetman Awards Banquet will be held on Saturday, October 23, 2021, at St. Basil's Cultural Centre, 10819 71 Ave NW, Edmonton, AB T6E 0X8. More deatils about the recipinets can be found on our website https://uccab.ca/hetman-awards/.
5:00 p.m. Kozak Reception
6: 00 p.m. Banquet and Program
Guests will enjoy a wonderful gourmet buffet dinner and a local Ukrainian talent. Tickets are $100 general and $60 for youth under 30 (limited amount). The tickets can be purchased on Eventbrite or by calling our office at (780) 414-1624.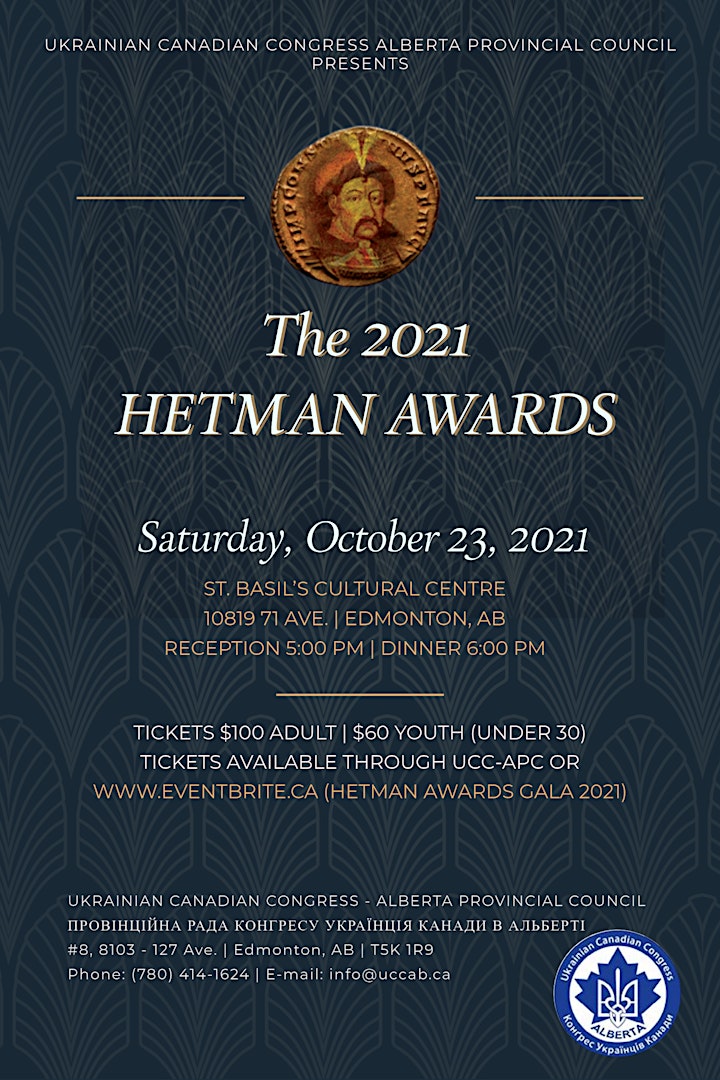 Organizer of Annual Hetman Awards 2021