Annual Public Meeting 2014 / Assemblée Annuelle 2014

Tuesday, 23 September 2014 from 6:30 PM to 8:00 PM (EDT)
Event Details
Join Ottawa Riverkeeper Tuesday September 23rd @ the Museum of Nature for a fun evening of song, lively conversation and updates on issues related to river health. Learn about AquaHacking – Ottawa River Summit 2015 and our ideas to find innovative solutions to many of the challenges our river faces today.
Our special guests include Alexandra Cousteau, explorer and granddaughter of the renowned oceanographer.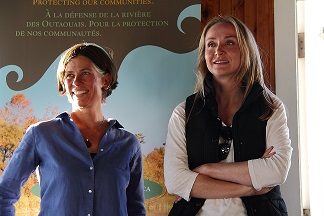 Bring your questions and ideas and help shape the future of our river. All are welcome! We all drink from the same river.
Joignez-vous à Sentinelle Outaouais le mardi 23 septembre prochain, au Musée de la nature, et passez une splendide soirée remplie de musique et de conversations intéressantes! Nous vous offrirons un compte rendu dela santé de la rivière, et vous pourrez en apprendre davantage sur le fameux AquaHacking 2015 Sommet de la rivière des Outaouais, un événement hors de l'ordinaire qui aidera à trouver des solutions novatrices à plusieurs des défis entourant la rivière.
Nos invités spéciaux incluent notamment Alexandra Cousteau, exploratriceet petite-fille de Jacques‑Yves Cousteau, océanographe de renom.
Venez présenter vos idées et questions afin de nous aider à façonner l'avenir de la rivière. L'assemblée est ouverte à tous! Rappelez-vous, nous buvons tous de la même rivière.
When & Where

Canadian Museum of Nature
240 McLeod St
Ottawa, ON K2P 2R1
Canada

Tuesday, 23 September 2014 from 6:30 PM to 8:00 PM (EDT)
Add to my calendar
Organizer
Ottawa Riverkeeper is a citizen-based action group that brings people together to protect and promote the ecological health and diversity of the Ottawa River and its tributaries.  Expert and independent, our organization advocates for responsible decision-making, public education, participation, access to information, and compliance with protective regulations, for the benefit of our river and our communities.
Garde-rivière des Outaouais est un groupe d'action communautaire sans but lucratif, qui rassemble l'opinion publique autour d'une cause commune, celle de protéger et de promouvoir la santé et la diversité écologiques de la rivière des Outaouais et de ses affluents. Garde-rivière des Outaouais est un organisme indépendant et reconnu pour son expertise. On préconise les prises de décisions éclairées, la sensibilisation et la participation du public, l'accès à l'information et le respect de la réglementation, dans l'intérêt de notre rivière et de nos communautés.