Annual September Sickle Cell Conference

Friday, 27 September 2013 at 5:00 PM

-

Saturday, 28 September 2013 at 5:00 PM (EDT)
Event Details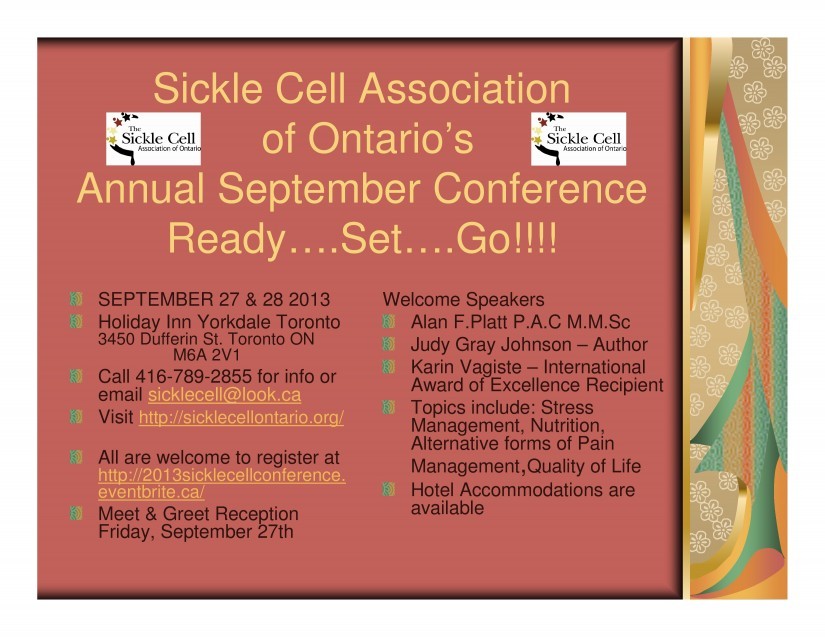 With the help of 


Get ready for September's Annual Sickle Cell Conference
'This is My Life'
We are discussing the social issues surrounding Sickle Cell
Conference dates:
Holiday Inn Yorkdale 3450 Dufferin Street, TorontoONM6A 2V1
Friday Evening Reception: September 27th 2013
6:00PM
Meet and Greet includes Light Refreshments and Musical Entertainment
Saturday – All Day Conference
September 28th 2013
8AM - 5PM

Topics include
- Stress Management
- Nutrition
- Alternate forms of Pain Management
- Disability Insurance
- Financial Planning
- Further Education 

This is a special invite to all Healthcare and Social Workers – what is my role in the alternative treatments of sickle cell?

Those living with the sickle cell trait will also benefit from this conference by knowing how important their role is in this sickle cell walk.

Choose a healthier FUTURE
Speakers
Alan F. Platt: P.A.C. M.M.Sc is on the faculty of the Physician's Assistant program at Emory university school of medicine and was a physician's assistant at the Georgia Comprehensive Sickle Cell center, Grady Health system in Atlanta for over 20 years.
Judy Gray Johnson:Ms. Johnson has nearly 40 years of experience in public education, having taught elementary, middle, and high school in Virginia and Maryland.  She holds a Master's Degree in Special Education from VirginiaStateUniversity, in Petersburg, Virginia, and a Bachelor's Degree in Elementary Education from South CarolinaStateUniversity in Orangeburg, South Carolina.  Ms. Johnson is also certified in the Commonwealth of Virginia as an Elementary and Secondary School Principal.  She completed the coursework for the doctorate in Educational Administration and Supervision from Virginia Polytechnic Institute and StateUniversity in Blacksburg, Virginia.  For three years, she served as president of the Fairfax County Federation of Teachers representing teachers and aides in the largest school district in the state of Virginia. Diagnosed with SCD  in her teens.
Karin Vagiste - Stress Management
Karin Vagiste was granted the International Award of Excellence for her Peace-Building Strategies in 1998. As a mediator, she received her education from three countries: Stockholm's International Peace Research Institute; Arizona's Victim Offender Mediation Centre; and WindsorUniversity's Faculty of Law in Ontario. Her best-seller, "Settle It!" has now been translated into a number of different languages. Jack Canfield, Co-Author of the Chicken Soup for the Soul series of book, endorsed "Settle It!" by writing, "Vagiste advances the cause of peace for the human soul. Every home should have a copy of this book."  She has crossed the line from traditional mediation work into transformational mediative stress management. No one else is doing this, so this makes her a true pioneer! Her particular focus is on lowering conflict-driven stress for people with chronic diseases. The greater your peace of mind, the less room there is for stress.
  Vagiste claims that her passion for peace is rooted in her Swedish genes! She has spoken at international and provincial conferences. She has also been a popular guest expert on a number of national T.V. and radio stations across North America, for example, NBC, FOX TV, CFRB, CBC, CITY TV, CTV, CHCH,…just to  name a few. For more information visit www.emotionalfitness.info
Accommodations available for out-of-town travellers
Parking is also available
Registration Fees:
Professionals                                             $80
SCAO Members                                         $60
Non-members                                           $70
Sickle Cell Families (call)                          $35
Community Groups of 5 or more                $50
($250 Minimum)
Students                                                   $35
All other inquires regarding registration, please contact the office at 416-789-2855
For ongoing updates on additional speakers and the agenda, please log onto http://www.sicklecellontario.org/

Follow us:
Twitter – https://twitter.com/SCA_O(SCA_O)
Facebook:https://www.facebook.com/sicklecellontario
When & Where

Holiday Inn Yorkdale - Toronto
3450 Dufferin St
Toronto, ON M6A 2V1
Canada

Friday, 27 September 2013 at 5:00 PM

-

Saturday, 28 September 2013 at 5:00 PM (EDT)
Add to my calendar
Organizer
The Sickle Cell Association of Ontario (SCAO) is a non-profit registered charitable organization that relies on the generosity of donations and volunteerism to provide support and resources for individuals, families and communities affected by sickle cell disease, province wide. 

Established in 1981, the SCAO is the provincial voice for sickle cell disease, dedicated to helping those with sickle cell disease lead healthier and more productive lives. 

The Association's mission is carried through the support of organizations responsive to the needs and healthcare of people with Sickle Cell disease, related illnesses or disorders; collaboration with other relevant organizations with similar goals; public, industry education; and community outreach. 

The SCAO is committed to providing quality, caring, effective and sustainable programs and community resources, inclusive of the advancement of health research and specialized care services. 

To learn more call 416.789.2855 or email sicklecell@look.ca or visit us at http://www.sicklecellontario.ca/