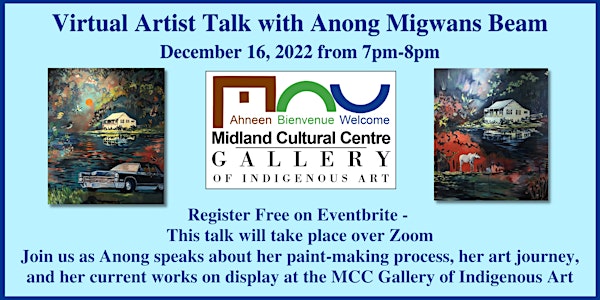 Anong Migwans Beam - Virtual Artist Talk
Join us as Anong speaks about her paint-making process, her art journey & her current works on display at the MCC Gallery of Indigenous Art
About this event
Anong Migwans Beam is an artist, mother, and paint maker who lives and works in her home community of M'chigeeng First Nation. She paints primarily large format oil paintings. Raised by artist parents Ann and Carl Beam, she was homeschooled and apprenticed with her father in his ceramic, pigment and clay gathering, and his painting/photography studio.
She studied at School of the Museum Of Fine Arts Boston, Ontario College of Art and Design, and Institute of American Indian Art.
And since 2018 the founder of Beam Paints , makers of plastic free paints and watercolors inspired by her culture and pigment gathering of her youth.